Welcome to a brief sampling of Victoria, British Columbia and it's surrounding countryside! This is a lush and lovely place, especially in spring and summer. From downtown to harbourside to wine country to Lake Cowichan and beyond - there are surprises around every corner! Enjoy these images and let us know if we can help in planning a visit to this fascinating part of Western Canada! -D&D
Photos c. 2008 Dennis A. Hubbs, D&D Travel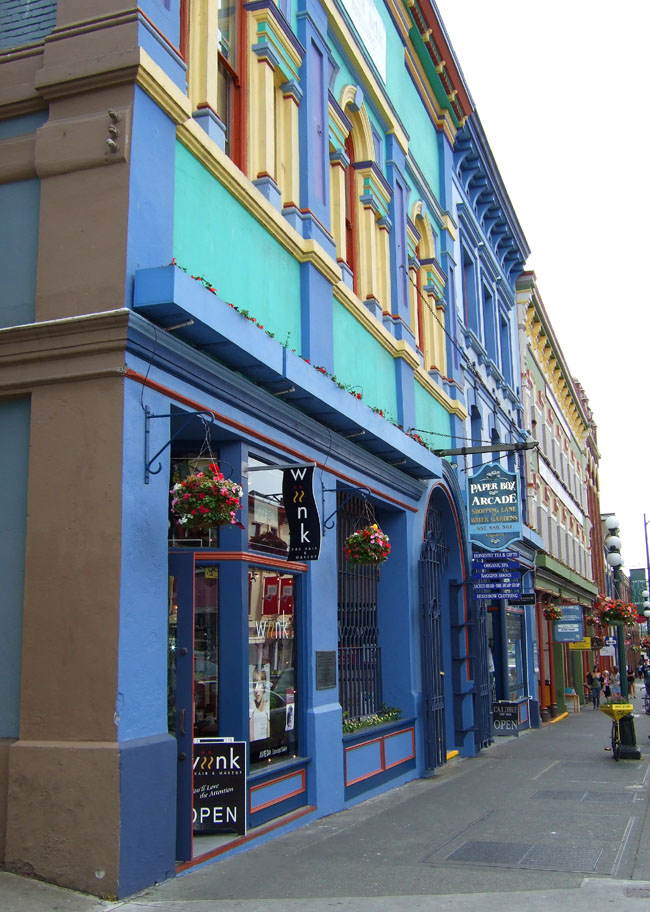 Downtown Victoria, much like a typical village in Ireland! The shopping is great and excellent restaurants abound in the areas around Wharf and Government Streets and Victoria Harbour. Victoria sits at the southern end of Vancouver Island (not to be confused with the city of Vancouver). It is an easy 15 mile or so drive from Victoria International Airport to the north. Ferry service by BC Ferries is offered to Vancouver and several other nearby islands and is top notch. They carry cars and passengers, offering a great way to visit the rest of British Columbia.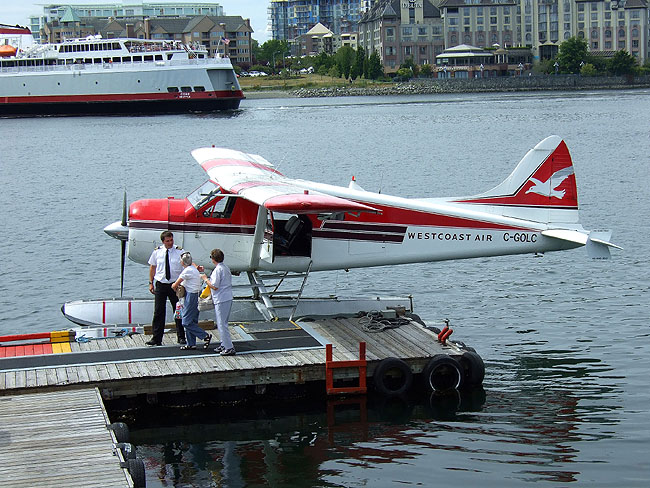 The inner harbour is floatplane central! Westcoast Air and Harbour Air Seaplanes offer flightseeing tours of Victoria and the rest of Vancouver Island directly from downtown docks. It's fascinating to watch them come and go from a comfortable waterside bench. Street performers entertain and vendors sell their arts and crafts along this busy waterfront.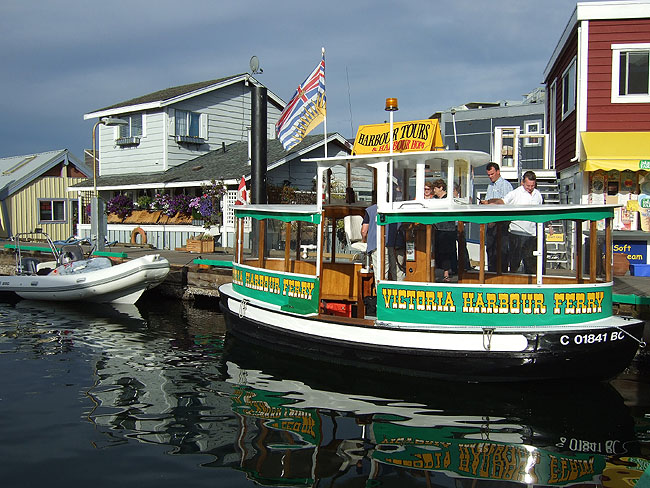 Not to be missed is a trip to Fisherman's Wharf via the Victoria Harbour Ferry shuttle! Fabulous seafood is to be had at Barb's Fish & Chips, literally a few steps from the ferry dock... Plan to wait in line a bit at this very popular and decently-priced eatery - a wait well worth the effort!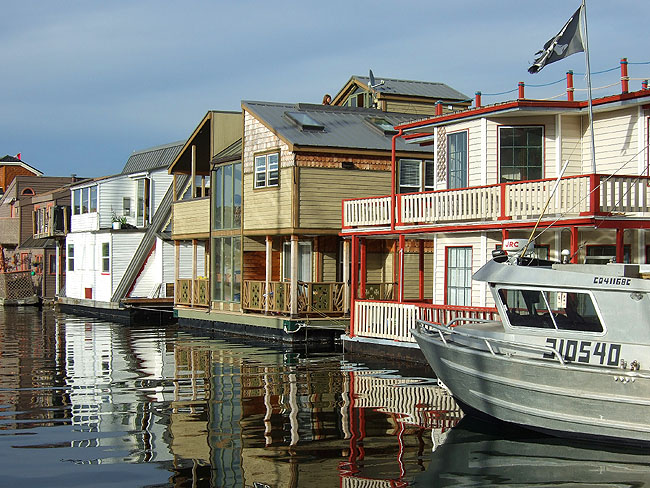 House boats - or "float homes" - line the docks at Fisherman's Wharf. Small but colorful and of course, location, location, location!! Some as small as 500 square feet and at $225,000, they offer a very interesting and different way of life!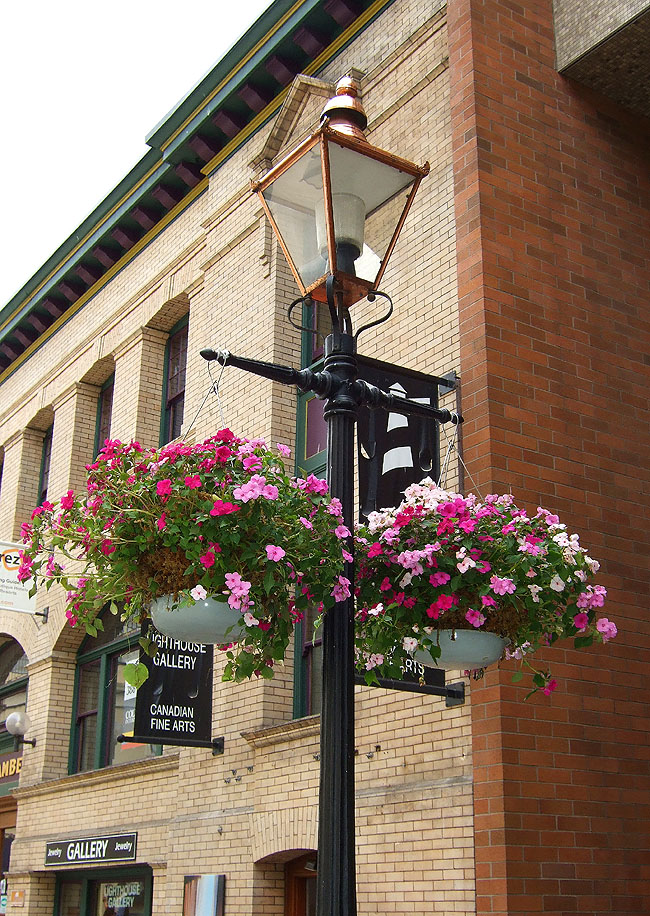 Flowers are everywhere, such as these hanging baskets on a lamppost along Bastion Square, just off Wharf St. Nearby are craft vendors and lots of interesting shops and cafes...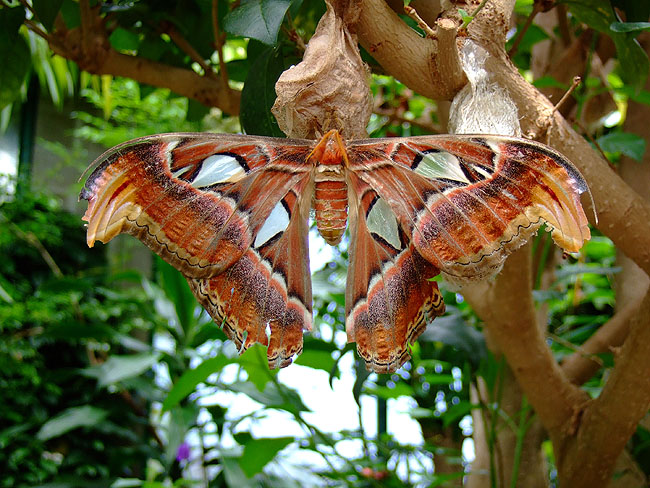 A stop at Victoria Butterfly Gardens in Brentwood Bay, north of Victoria, is worth the trip! Many different species of the colorful insect, varying by the time of year, fly amongst tropical foliage and waterfalls. Above is a Giant Atlas Moth (Southeast Asia), having recently emerged from its cocoon. This is a photographers paradise! They are open March through October.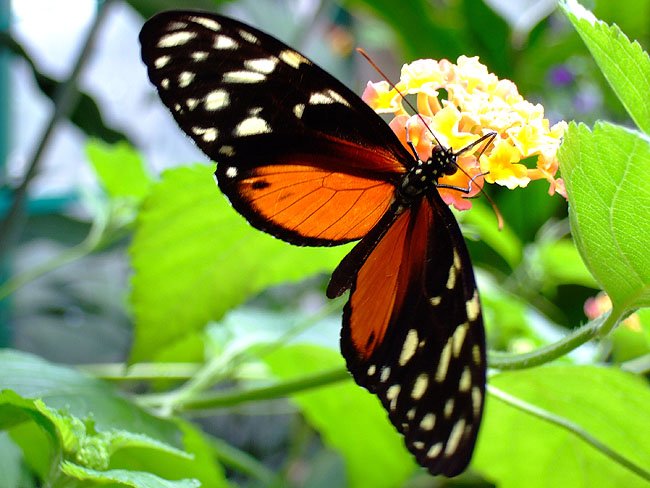 A Golden Helicon (South and Central America) pauses briefly on a tropical flower at the butterfly gardens. Be patient and you will be well-rewarded!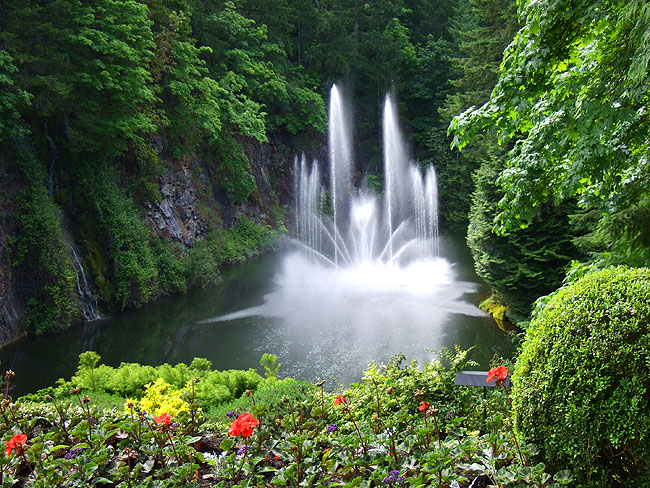 The Ross Fountain at Butchart Gardens! Note the waterfall to the left. The gardens are a MUST see on any trip to Victoria and Vancouver Island. Rising 70 feet above the pond, the fountain was installed in 1964 by Ian Ross, grandson of the Butcharts. The gardens, covering 55 acres near Brentwood Bay, have been in bloom for 100 years!! Visit the Blue Poppy open air restaurant for a great lunch when you are hungry, or perhaps the more formal Dining Room Restaurant...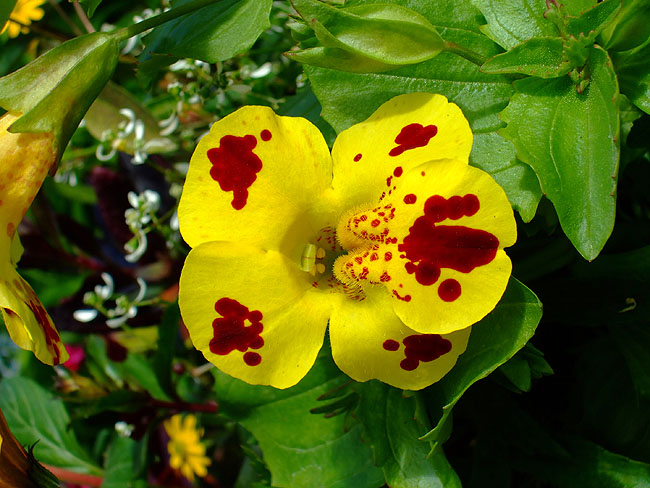 Just one of scores of blooms adorning every corner of Butchard Gardens. They offer a plant and seed store, a plant identification centre and some of the lovliest flowers in existence!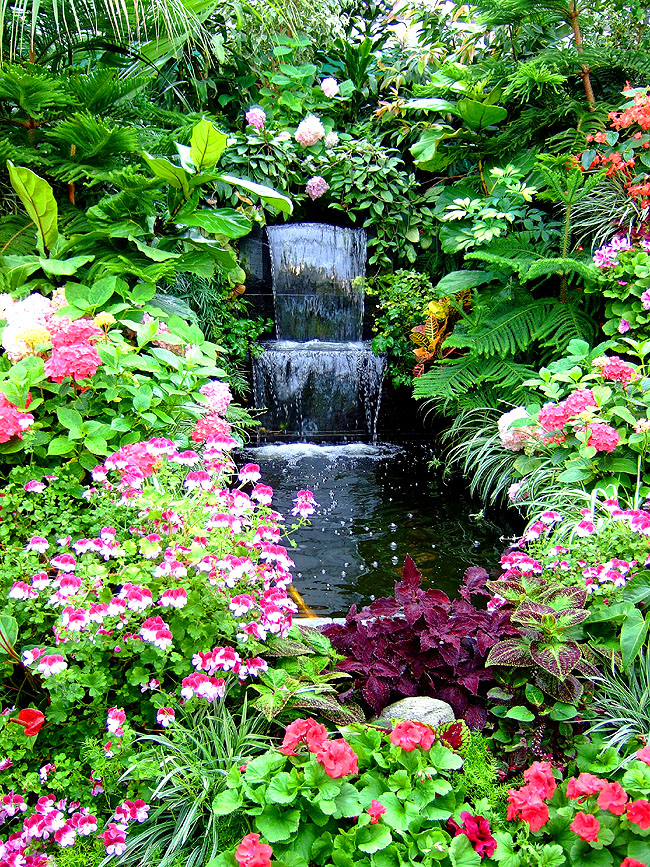 The "Show" Greenhouse, adjacent to the Blue Poppy Restaurant (cafeteria-style cafe) - with one of the most colorful and incredible series of blooms we have ever seen! A cut-out in the protective window allows photographers to snap away unhindered and the flowers to the left and right of the cascade are even more fantastic... Such a visual feast!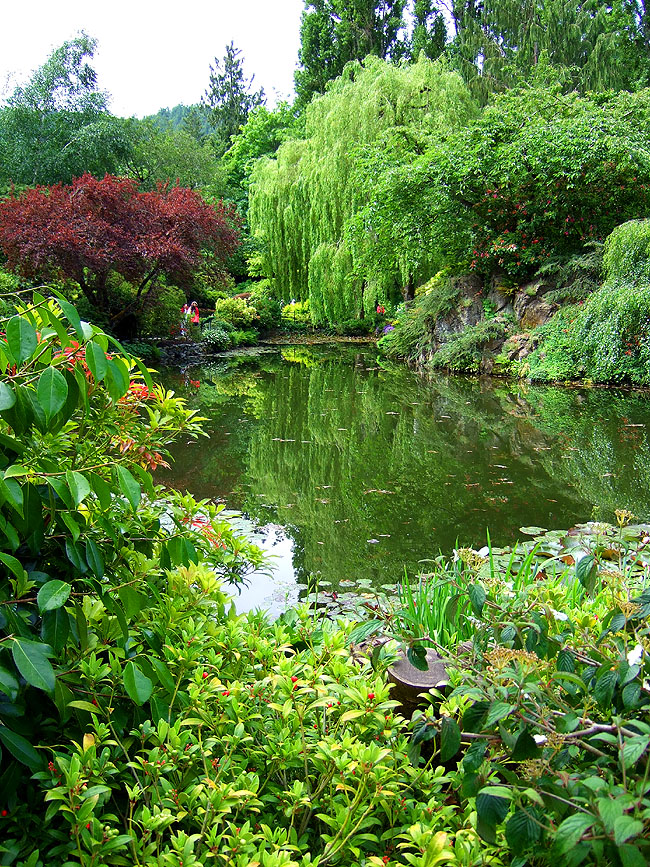 Along one of many pathways leading toward the Sunken Garden. Butchart Gardens was once a worked-out limestone quarry (!) used to supply the family's nearby Portland cement plant. Slowly and skillfully, they created the gardens with plants and trees collected from their world travels.
A bee stops to feed on Cosmos blooms.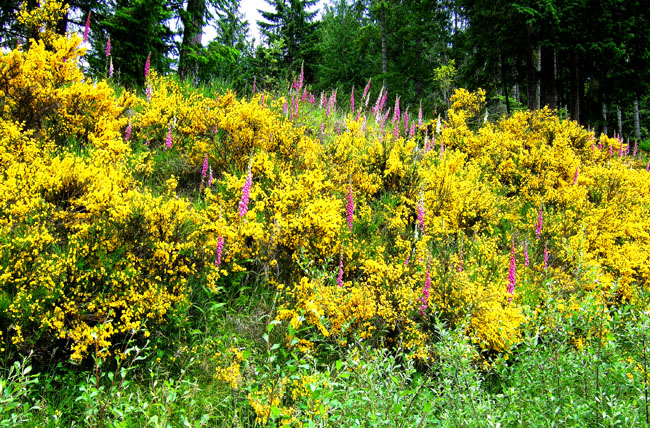 The countryside surrounding Victoria is a wildflower lovers heaven! This is a typical scene along the roadside on the way to Honeymoon Bay, (on BC Route 18) near Lake Cowichan. In fact, a woodland wildflower reserve is about a mile and a half past Honeymoon Bay - simply park along the roadside and walk in (watch for the tiny sign on the left!). It's a fascinating place!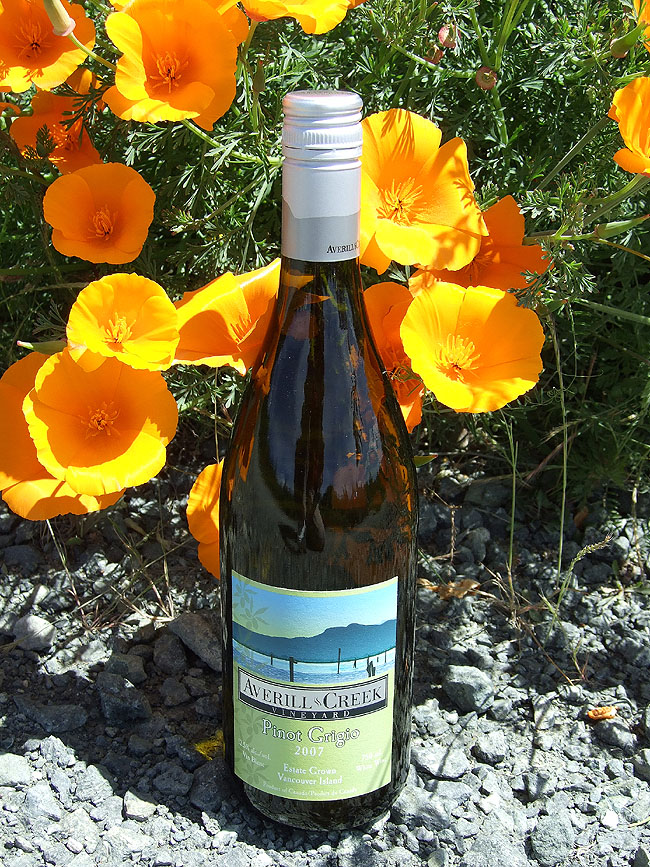 There are scores of wineries on Vancouver Island - the area lends itself to the growing of fine grapes. Vineyards such as Averill Creek in Duncan offer great locally-produced wines like the Pinot Grigio above. This bottle is shown nestled in wildflowers that line the gravel road leading to the winery, which offers spectacular views from its terrace. Thanks for looking! -D&D