Ever since the WB television network's
Dawson's Creek
hit the air, folks have been fascinated and captivated by the cast
and
the location. Capeside, Massachusettts, as some already know, was actually the area in and around
Wilmington, NC
- and the Cape Fear Coast. The climate and the varied location scenery offered the production company a perfect place to shoot the series. That, coupled with a major motion picture production facility - EUE Screen Gems Studios, makes Wilmington the largest movie and television production center east of Hollywood, California ! Feature films such as
Billy Bathgate, Cyborg, I Know What You Did Last Summer, Weekend at Bernie's,
and many others were produced in the Cape Fear area, which includes Wilmington, Wrightsville, Carolina and Kure Beaches, and the towns of
Southport
, Oakport and Bald Head Island, North Carolina.
The region is a fascinating place to visit. There are many spots in and around Wilmington, used as locations for Dawson's Creek - and now One Tree Hill. In fact, our premier hotel, the Hilton Wilmington Riverside, has shown in the background of many DC scenes shot along the waterfront. It's still the perfect base from which to explore all of Dawson's Creek and OTH territory !
You might visit the Ice House, the Dockside on Wrightsville Sound, the video store where Pacey worked, the site used as Capeside High, or the lovely gardens visited by Jen and Dawson. Wander the waterfront or the streets of downtown Wilmington where many scenes are created - you could end up watching a location shoot for One Tree Hill, or for a number of other projects currently in production. You're sure to recognize the area! You might even wander through the quaint village of Southport, where still other scenes have been/continue to be shot.
Clockwise from top: The Cafe at Screen Gems; Downtown Wilmington waterfront; Hewlett's (Dawson's) Creek; The riverboat Henrietta II (now replaced by III), often seen in DC and One Tree Hill backgrounds along the riverfront, especially the OTH basketball court, located just across the river from downtown Wilmington, in Battleship Park...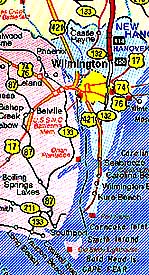 Wilmington-Cape Fear Area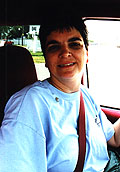 Betsy Brodie Roberts, author of the definitive guide to film production in Wilmington, North Carolina, and an extra in DC and many other locally made films.
photos on this site c. 1999, D. Hubbs. They may not be reproduced !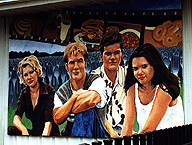 Mural outside Hollywood Connections Cafe at EUE Screen Gems Studios