Day 01

Monday

November 6

USA-IRELAND: Meet at Bradley International Airport, Hartford, CT and depart on your overnight flight to Dublin, Ireland via Aer Lingus nonstop service. Dinner will be served, followed by in-flight entertainment shortly after take-off. (D)

Day 02

Tuesday

November 7

DUBLIN-MULLINGAR: Early morning arrival into Dublin. After clearing Irish Customs, you'll meet your driver/guide in the Arrivals Hall and be escorted to your awaiting motor coach. Travel a short distance to Balbriggan and the Man O' War Pub, a public house deeded back to 1595, where you'll enjoy your first full Irish breakfast and the history of the place with Martin McNaulty, the current proprietor. On then across to Mullingar in County Westmeath to your hotel that will be home for the next five nights. Check in with time to rest, relax or independently explore. NOTE: Our hotel is about 1.5 miles from the Town Center. Overnight at the Mullingar Park Hotel. Dinner is at our hotel tonight. (B,D) Map showing hotel location here.

Our hotel for 5 nights Hotel pool & whirlpool

Day 03

Wednesday

November 8

KELLS-HILL OF TARA-NEWGRANGE: Today after breakfast at your hotel, we will travel to the busy town of Kells, which was one of the island's earliest monastic settlements. The Book of Kells is now housed in Trinity College in Dublin, but Kells still has some well-preserved high crosses, as well as the 10th Century oratory known as St. Colmcille's House. Next, we'll visit Trim, with a photo stop at Trim Castle, where a portion of the motion picture "Braveheart" was filmed. The town is sprinkled with medieval remains, including the Yellow Steeple in the ruins of St. Mary's Abbey and the Newtown Monuments. We will check out the Bru na Boinne Visitor's Center, followed by a shuttle to the Newgrange tombs. Our last stop will be the Hill of Tara - an icon of Irish history and mythology for about 6,000 years. This sacred site has been used by people since the late Stone Age to the 12 century and was once the seat of the High Kings of Ireland. Return to your Mullingar Hotel for dinner on your own and overnight. (B) NOTE: This will be our "busiest day!" Itinerary and order of visits are subject to change depending on timing, traffic and our tour at Newgrange (arrival currently scheduled for 11am)...

Day 04

Thursday

November 9

COLLON – MONASTERBOICE: Today, we'll first journey to Collon where you'll visit Collon House & Gardens, built in 1740. Enjoy a tour of the house followed by tea/coffee and homemade cake. On then to Monasterboice which had been a monastery and centre of learning for 700 years. It still has a 30 meter-high round tower and two churches as well as a collection of high crosses dating from the 9th or 10th century. This includes the West Cross, the tallest in Ireland at approximately 7 meters and the intricately carved Cross of Muiredah. We'll also celebrate a special marriage blessing at the ruins this afternoon, for two of our explorers! Return to Mullingar for your overnight. Dinner on your own this evening. (B)

Day 05

Friday

November 10

DROGHEDA: After breakfast we travel eastward to Drogheda, for a visit to Oldbridge Estate where the Battle of the Boyne occurred. The Battle of the Boyne, between King William III and his father - in - law, King James II, was fought on 1 July 1690 (11th of July according to our modern calendar). Both kings commanded their armies in person. William had 36,000 men and James had 25,000 - the largest number of troops ever deployed on an Irish battlefield. At stake were the British throne, French dominance in Europe and religious power in Ireland. On into Drogheda where you have time to independently explore. Make sure to visit St. Peter's RC Church on West Street and learn the story of St. Oliver Plunkett. We'll then make a run to the east coast fishing village of Clogherhead with its harbor and magnificent views! Time permitting, we'll drive north along the coast of the Irish Sea prior to heading back to Drogheda to enjoy dinner at the Bru Bar & Bistro restaurant, along the River Boyne, before returning to Mullingar for our overnight. (B,D)

Day 06

Saturday

November 11

BELVEDERE HOUSE & GARDENS: Our final visit today brings us back to real life - at its worst! Belvedere House was built by Robert Rochfort, the vile 1st Earl of Belvedere, who imprisoned his wife for 31 years, ruined one of his brothers and fell out with another when the brother built a nicer house next door. The Earl's response? He put up a folly, now called the Jealous Wall, to block the view of it. Belvedere House is beautiful, but perhaps the unhappiness clings, as legend has it no child has ever been born there. The Jealous Wall still stands today and is said to be the largest purposely built ruin of its kind in Ireland. Enjoy a walk through the Walled Garden (everybody knows the Fairies live at the bottom of your garden)! At Belvedere there is also a magical Fairy Garden at the bottom of her Walled Garden, in an enchanted glen. See the sprites fluttering in the wind and hear the gushing water fall as you make your way through!! Return to Mullingar, where you'll enjoy a farewell dinner at The Old House Restaurant in Mullingar Center. Overnight at the Mullingar Park. (B,D)

Day 07

Sunday

November 12

MULLINGAR-DUBLIN-USA: This morning, after breakfast, you'll be transferred to Dublin Airport for your afternoon flight, where you will bid a fond farewell to your driver/guide and the Emerald Isle. Clear US Customs right here in Dublin and return home to Hartford the same day. (B)
Custom Arrangements via Celtic Tours World Vacations!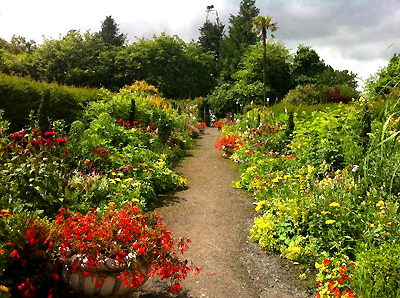 Fairy Garden pathway, Belvedere House & Gardens!

Limited to 20 travelers only!
This tour is 100% nonrefundable...
(860) 243-9458 or (800) 613-0282
Email: dennis@ddtvl.com