Day 01

Monday

November 5

USA TO IRELAND: Meet at Bradley International Airport, Hartford, CT and depart on your overnight flight to Dublin, Ireland via Aer Lingus nonstop service. Dinner will be served, followed by in-flight entertainment shortly after take-off. You are invited to meet in the Escape Lounge at Bradley prior to departure (optional). (D)

Day 02

Tuesday

November 6

DUBLIN TO GALWAY: Early morning arrival into Dublin. After clearing Irish Customs, you'll meet your driver/guide in the Arrivals Hall and be escorted to your awaiting motor coach. Travel about an hour to Ballykilmore, where we'll have a full Irish breakfast at Tyrrellspass Castle. Afterward, we'll head toward Galway with a stop at the Galway Crystal store for some on-arrival shopping and a brief tour of the area prior to checking-in at our hotel for the next four nights - the Jury's Inn Galway, directly on the River Corrib - in a River View room! The remainder of the day is free to check-out downtown - literally a few steps from the hotel. Dinner tonight is at the hotel. Travel time to Galway, not including stops, is about 2.5 hours (130 miles)... Please note: Early check-in cannot be guaranteed. (B/D)

Jurys Inn Galway The River Corrib - near the hotel

Day 03

Wednesday

November 7

WE EXPLORE CONNEMARA: Today, after breakfast at your hotel, we will travel to the beautiful Connemara region - a land of white-washed cottages, lovely streams and rivers and rocky mountains. We'll make a photo stop near Patrick Pearse's Cottage on the shore of Loch Oiriulach as we take coastal route R340. Then, it's onward to Slyne Head - the westernmost portion of County Galway and its scenic beauty. In Clifden, we'll grab some lunch, check out the falls in town along the River Owenglin and then make our way to Kylemore Abbey - perhaps the most photographed spot in all of Ireland! Time permitting, we'll visit Aasleagh Falls in southern County Mayo before heading back to Galway. Dinner is on your own this evening. This will be a full day's touring! (B)

Day 04

Thursday

November 8

BURREN NATIONAL PARK/CLIFFS OF MOHER: After breakfast, we're on our way south to the incredible landscape that is The Burren (pronounced "burn"). After a stop at Poulnabrone - a Megalithic Tomb (Dolmen) dating to 3200BC, we'll head over to Leamaneh Castle ruins for some photos. Then, it's on to the Cliffs of Moher, where, with some good weather luck, you'll climb the paths to a spectacular view overlooking the wild North Atlantic Ocean. The cliffs rise 700 feet straight up from the pounding waves far below. The visitors center offers great shopping and a cafe as well as visual displays of the area. O'Brien's Tower, at the top of the cliffs, is a great viewpoint. We then return to Galway, with dinner on your own this evening. (Note: this really is a "weather permitting" visit to the top of the cliffs. Wet weather gear strongly advised!! The visitor center is always accessible however!) Tonight, dinner is on your own. (B)

Day 05

Friday

November 9

CAVES AND CASTLES DAY: Just after breakfast, we head out again around Galway Bay, with a photo stop at Dunguaire Castle - a 16th century tower house near Kinvara. Then, it's on to a tour of Aillwee Cave - a beautiful cavern with its bridged chasms, strange formations and thunderous waterfall. Following the tour, we'll head back into the Burren to visit the Burren Perfume Factory, with their brief audiovisual presentation and the opportunity to purchase some unique fragrances made from the area's abundant wildflowers! Time permitting, we'll make a final photo stop at Athenry Castle before returning to Galway for dinner at a local pub/restaurant. (B/D)

Day 06

Saturday

November 10

GALWAY TO ATHLONE: Again after breakfast, we'll make the trip east to Athlone. On the way, the next stop is Clonmacnoise - an early Christian Monastic site founded in the 6th century by Saint Ciaran. It sits along the banks of the River Shannon and contains the ruins of a cathedral, seven churches (from the 10th to 13th centuries), two round towers and three high crosses, among other relics. Afterward, we'll visit Athlone Castle before checking into our hotel for the final night - the Radisson Blu on the banks of the River Shannon. We'll enjoy a farewell dinner in a local pub/restaurant this evening. (B/D)

Day 07

Sunday

November 11

ATHLONE TO DUBLIN TO USA: This morning, after breakfast, you'll be transferred to Dublin Airport for your afternoon flight, where you will bid a fond farewell to your driver/guide and the Emerald Isle. Extensive last-minute shopping will be available at the airport! You'll then clear US Customs right here in Dublin and return home to Hartford the same day. (B)
Itinerary notes: Some castles and other ancient sites/ruins do not provide tours, or do not do so past the usual tourism/in-season months, but are still accessible in most cases, for photographs...This will be a sightseeing-intensive tour, but you are welcome to go off on your own if you so desire!
Custom Arrangements via Journeys Connect!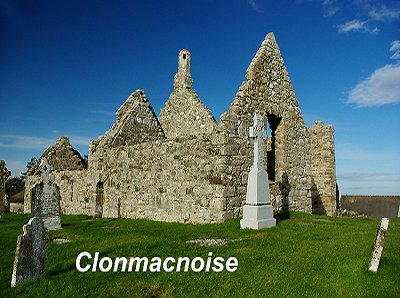 The 6th Century Clonmacnoise Monastic Site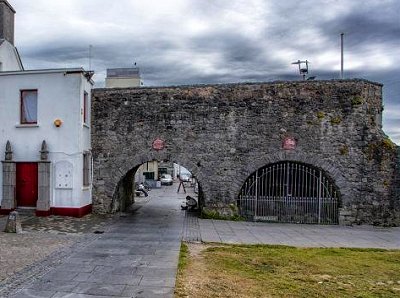 The Spanish Arch (1584) - steps from Jurys Inn...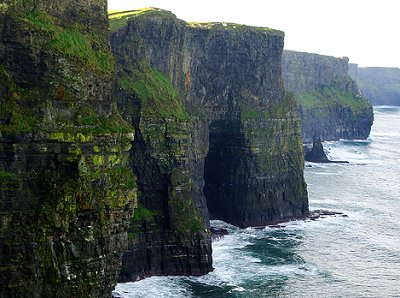 ...and the spectacular Cliffs of Moher!
CLICK HERE for important travel protection coverage details, limitations, restrictions, etc.
This is a small (25 explorers maximum), fully-escorted, unique custom group tour
Tour is 100% nonrefundable...(thus the travel protection)!
About VAT (Sales Tax) and tax refunds
Visitors may be able to claim some VAT back on purchases made in Ireland Visitors to Ireland from non-EU countries can claim back sales taxes on purchases made in Ireland; shopping in Ireland is subject to VAT (sales tax) of 23%. Always look for the "Tax-Free Shopping" sign in the windows of participating stores. To avail of your tax refund, you must complete a valid tax refund document, which you can get from these stores. Present this document to the tax-back desk on departure from Ireland and you can receive your refund on the spot at some airports; otherwise, you can hand-in or mail your tax refund document and a refund will be issued.
ALSO:

Select shopkeepers will offer you Horizon Tax-Free shopping - a new paperless method of getting tax refunds brought to you by FEXCO Tax-Free Shopping. With each purchase, the card is swiped and tax-free eligible items are logged. At the end of your trip, swipe the card in the FEXCO Tax-Free Shopping kiosk at Dublin Airport (WE will guide you!) Then, swipe any valid credit card and a refund will be issued as a credit to that card. Keep in mind that FEXCO does keep a percentage as a service fee! To apply for the Free FEXCO card by mail, click here! It will be mailed to you pretty quickly. The card is valid for only one trip. When you receive it, simply register it on-line along with your passport number and you'll be good to go! NOTE: If asked during the registration process, enter that you are currently traveling in Ireland...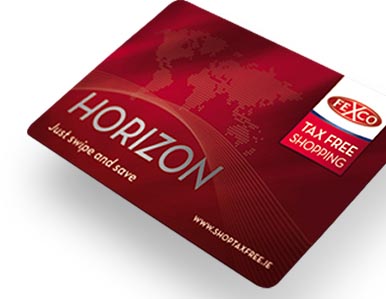 (860) 243-9458 or (800) 613-0282
Email: dennis@ddtvl.com