D&D Travel Presents a Sampling of Rhode Island Delights!
Please enjoy these images from a recent visit. - Donna & Dennis
| | |
| --- | --- |
| 1. | 2. |
| 3. | 4. |
| 5. | 6. |
| 7. | 8. |
| 9. | 10. |
| 11. | 12. |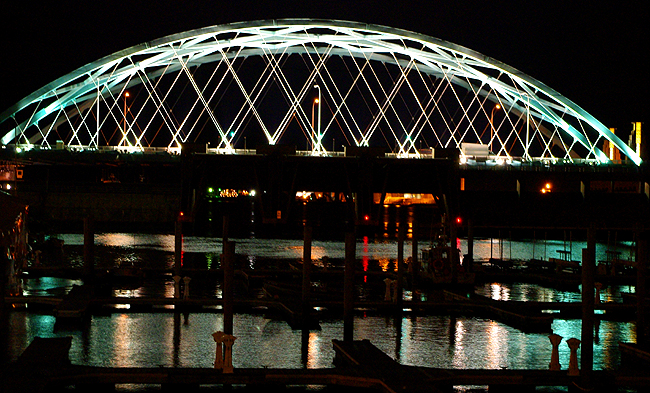 Looking south at the "new" I-195 Bridge over the Providence River in downtown Providence, Rhode Island. The "I-way" bridge was floated into place in 2007. Its double-arch main span, 400 feet in length, is part of a 1250-foot bridge and is itself part of a major I-195 relocation project currently slated to be complete by 2010...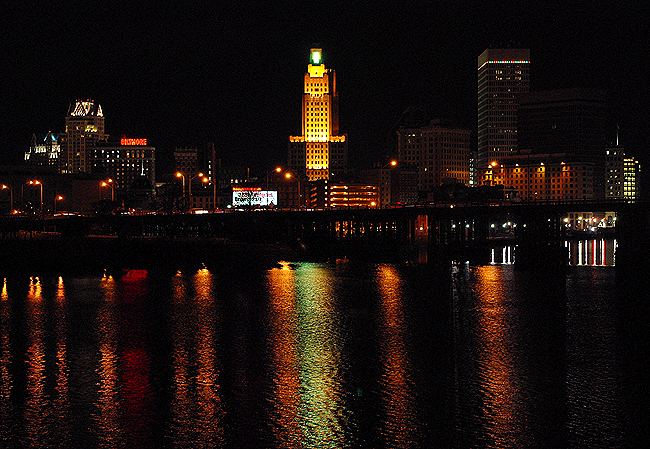 Reflections in the waters of the Providence River, looking north at the night skyline of downtown Providence, RI. This is a great city to spend some time in most any season of the year!
1, 2 & 3: Butterflies en masse at the tiny but fascinating Newport Butterfly Zoo on Bulgarmarsh Road in Tiverton, Rhode Island. The colorful creatures are easily photographed as a very knowledgeable guide points out the many species and answers any questions visitors have. Well worth a stop, especially for those with children!
4, 5, 6 & 7: The area of Providence known as Federal Hill offers an incredibly colorful backdrop for many excellent Italian (and other) restaurants. The outdoor courtyard area pictured is DePasquale Square and the indoor market is Constantino's. The market has a cafe inside and the whole area really comes alive at night!
8, 9 & 10: Sakonnet Vineyards and Winery, West Main Road in Little Compton, is a lovely place to visit, offering free winery tours, wine tasting, a cafe and picnic area. In photo #8, Chardonnay grapes are basking in the sunshine, promising a rich (and early) harvest in 2008! The winery is open year round, in summer from 10-6 and winter from 11-5...
11, 12: Waterfire - the summertime ceremonial lighting of bonfires on the three rivers of downtown Providence - occurs a number of times during the summer season. In 2006, the festival celebrated it's 200th lighting of the fires, set to music during the evening. The performances celebrate the renaissance of Downtown Providence - a lesson many other cities with rivers might take note of! Click here for a link to Waterfire's official website.
All photos C. 2008 - Dennis A. Hubbs, D&D Travel Services, LLC
[HOME]
D&D Travel Services, LLC - email: dah4_1@yahoo.com






Home Page - About Us - American Society of Travel Agents
Book On-Line - Land Tours - Cruising - Travel Glossary - Gallery - Email Us