Useful Tips for the First Time Cruiser
There are a wide variety of cruise itineraries available throughout the world from a three day cruise to the Bahamas to a 100 day cruise around the World. You can cruise the Mississippi to the Mediterranean. We can match your needs to the cruise itinerary of your dreams.
Cruise vacations are now more popular than ever, partly because of the attractive, all-inclusive pricing. You can get your transportation, accommodations, all meals and every conceivable kind of entertainment...all for one prepaid price. The prices vary depending on the length and type of cruise you desire and the accommodations you select. Many cruise lines now offer generous discounts and booking incentives. Our cruise specialists will obtain the best value for your departure time.
Accommodations on cruise ships, typically called staterooms, can vary in size, appointments and price. Oceanview cabins will cost more than inside staterooms, since they provide a view through an outside window or porthole and many of the new vessels provide an outside verandah or "balcony" with a wonderful view. Some newer ships' "inside" staterooms actually offer picture window views of the inner atriums or "promenades," which can be absolutely spectacular, especially on some of Princess and Royal Caribbean's larger vessels... In Alaska, a balcony really is a must!
If you like to eat then you are in for a treat! You will be offered more food...more often than you could possibly manage to eat. Many ships offer two sittings for each meal, particularly dinner; usually two hours separate each sitting. You can request the sitting that best suits your eating habits when you book your cruise. You can also request what many cruise lines now offer - a form of "anytime" dining that might suit your schedule more favorably! Cruising is a wonderful place to meet new friends and it usually starts in the Dining Room with your table guests. Ask for a large table so you can meet new people. Tables are usually available for two, four, eight, ten, even twelve, and can be requested when you make your deposit (not guaranteed but they do their best to accommodate you!). The cost of all your meals from breakfast to the midnight buffet (if still offered) are included in the main dining areas, but there are also a number of "alternative" restaurants that seat many less guests, are more cozy/romantic and perhaps offer food a cut above the others. There is usually a "cover charge" to dine in these venues, which mostly, covers the gratuity to the dining staff. This ranges from $10 to $25 or so per guest and is added to your on-board account. However, the cost of cocktails, sodas and alcoholic beverages is not included. Most cruise ships allow you to charge the cost to your cabin to settle your bill at the end of the cruise. If you have special dietary needs (Kosher, low salt, low sugar, etc.), let us know. We will ensure the ships galley is made aware of your requirements.
Take your bathing suit and casual cruise wear but also be sure you are prepared for all occasions, including the one or more formal attire evenings usually included during your cruise itinerary. And, make sure you pack a sweater for your romantic evenings up on deck. We'll be able to give you more dressing details after you choose your cruise ship and ports of call.
When you first board your ship, you will be given identification that will permit you to get on and off the ship as you wish in port. It also will be used as identification when you sign charges back to your cabin. On most cruises, you are given an account identified by your cabin number that allows you to sign for all charges during the cruise and pay them at the conclusion of the trip. The only costs not prepaid as part of the cruise price are for your drinks, shore excursions, staff gratuities and on-board services such as hairdresser, masseuse, manicurist, photographer, etc. The ship will publish a daily calendar of events, usually placed under your cabin door during the night. This sheet will offer you a schedule of social, recreational and entertainment activities that are taking place all day long. Select the activities you wish to participate in or just sit by the pool and watch! You do NOT have to participate in everything!!!! The cruise line will also offer organized shore excursions in each port of call. These can range from full-day sightseeing tours to an afternoon snorkel and beach barbecue. You usually get a listing of these excursions and their prices with your cruise tickets so you can budget for them before you leave. Often, these excursions will be available to view and book many months prior to your cruise, on the cruise line's website. Some lines will charge you ahead of time, but some will simply allow you to book and have the charges added to your on-board account. You are encouraged to tip those members of the ship's staff who have directly helped you enjoy your cruise experience...your cabin steward, dining room waiter, and busboy. This can be done during the last evening of the cruise*. We consider the following amounts appropriate: The average gratuity for your room steward, waiter and busboy together is about $12 to $15 per person per day and *this amount is nowadays normally added directly to your stateroom account; it can of course be adjusted at any time! Wine stewards or sommeliers and bartenders are tipped about 15% of the cost of the wine or drinks you have ordered. You may increase these amounts particularly if you receive extraordinary service. That 15% is included automatically on the receipt you sign for each drink ordered. All of these various gratuities will show at the end of the cruise, on your on-board account statement...
During the final days of your cruise, the Cruise Director will offer a session to all passengers on debarkation procedures, everything you need to know when you leave the ship. We suggest you attend this usually brief session. It will cover such important subjects as luggage procedures, customs formalities (usually less formal than at airports), and gratuities.
In selecting your cruise, think about where you want to go... from Alaska, to the Caribbean, to Europe and the Mediterranean...how long you want to be gone and how much you can afford to spend. Our experienced personnel will then assist you in choosing the cruise that best fits your needs and budget. Just call or email us to plan your "Bon Voyage!
We recommend two great books: "Alaska by Cruise Ship" and "Caribbean by Cruise Ship." Both contain some great tips on cruising to their respective areas, along with detailed port-of-call information. They are great for both first-timers and veteran cruisers! Click on either icon above for more information and to purchase your own copy!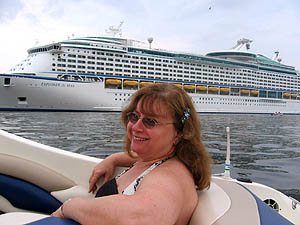 RCCL's Explorer of the Seas, docked in New London, CT