While Autumn, 2011 was not as breathtaking as usual in New England (due to some not-so-agreeable weather), there were, nevertheless, many lovely scenes to take in during a late-October visit to Litchfield and Northern Hartford Counties in Connecticut...Please enjoy the following images! - Donna and Dennis [HOME]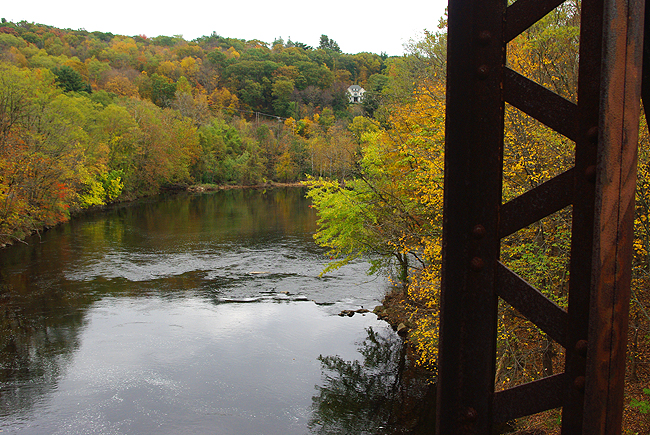 The Farmington River, as seen from the footbridge behind the old Collins Company, just off Route 179 in Collinsville center, Connecticut...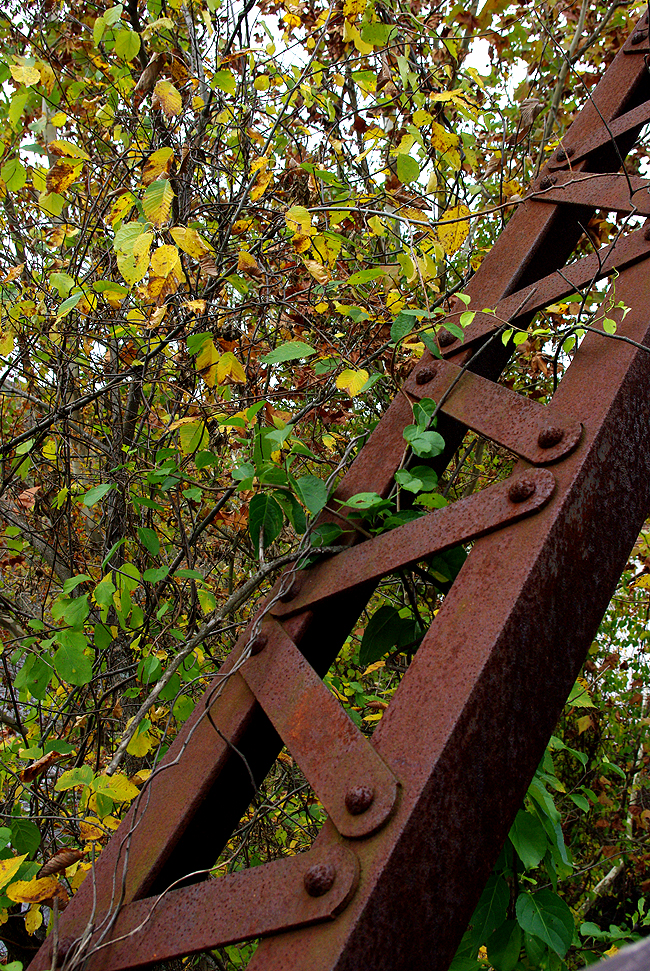 A rusty iron arch support - part of the old railway bridge spanning the river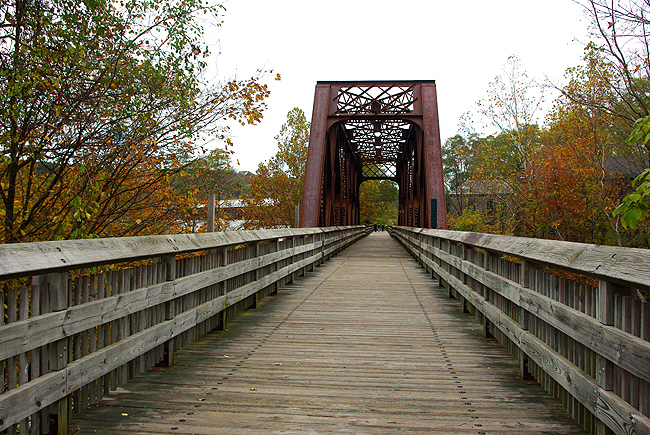 Looking across the old bridge toward Collinsville. The center of the span marks the border between Collinsville and Burlington. It's a lovely walk any time of the year...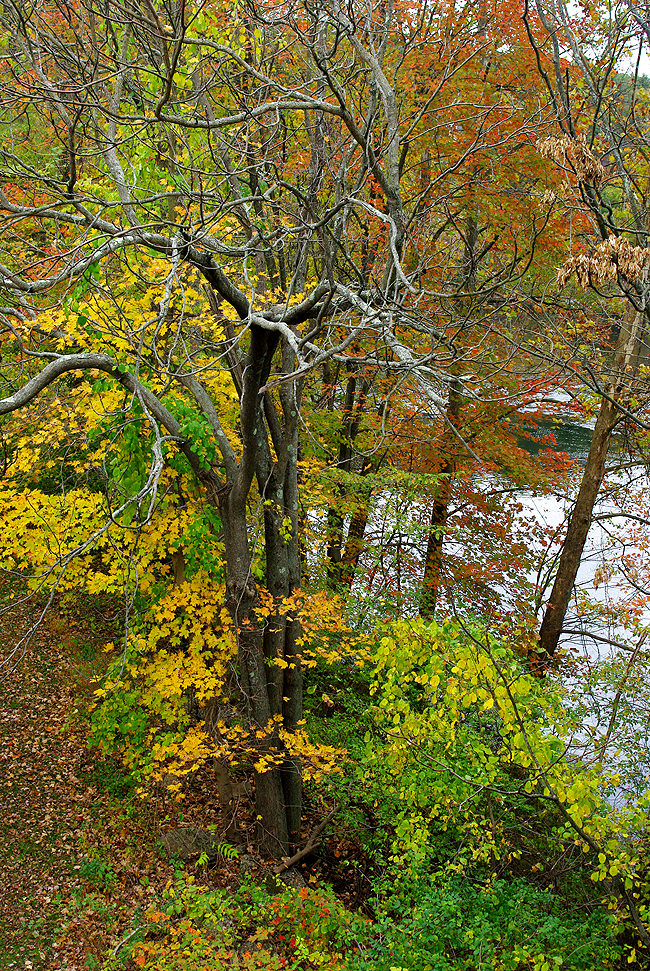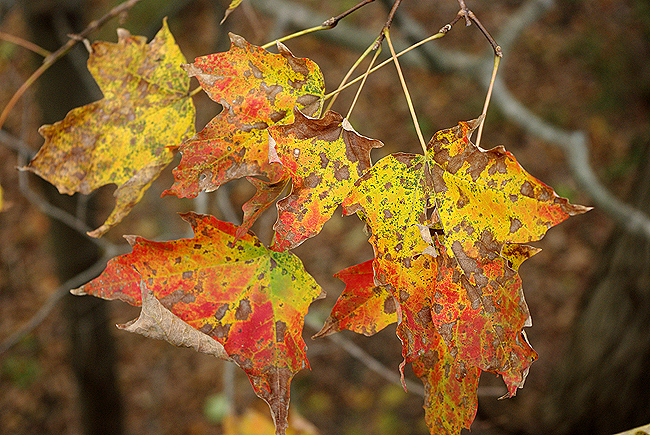 Above three images - even with the inhospitable weather this fall, the foliage manages to produce some lovely colors along the Farmington River in Collinsville...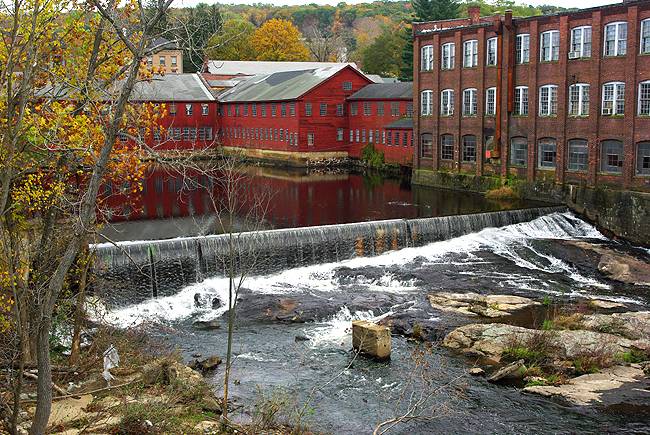 The old Collins Company Mill complex on the banks of the Farmington River in Collinsville, CT. The mill produced high-quality axes, hatchets, etc. from 1826 through 1966, when its doors finally closed. Click here for a brief history of this world-famous company!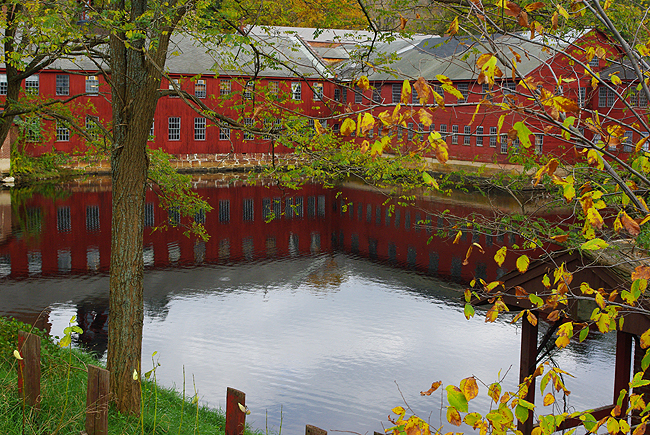 The mill is reflected almost perfectly in the pond on a gray fall day...This is a great spot to photograph most any time of year... and well worth a visit!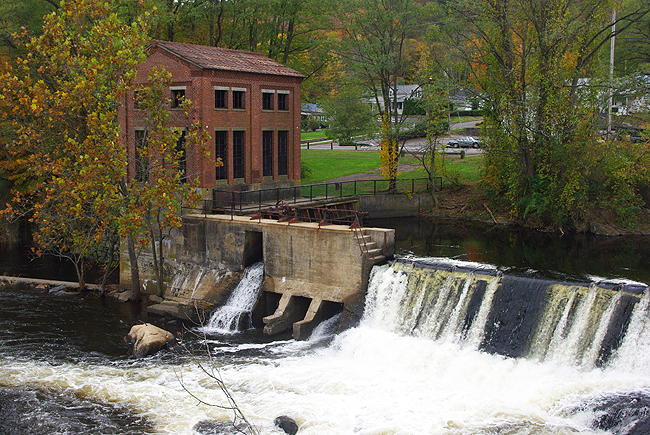 Opposite the mill complex, another spillway passes water back into the Farmington River...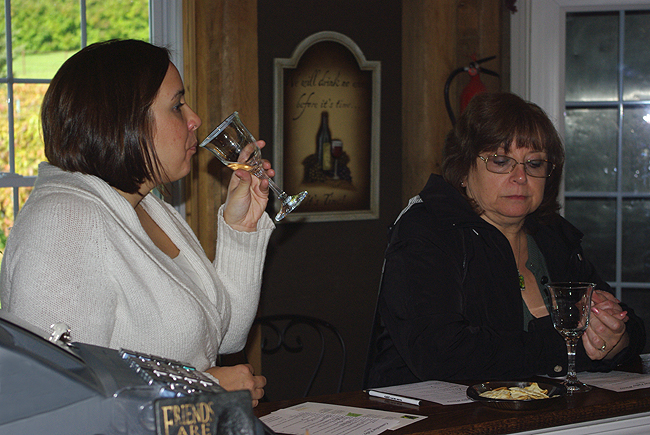 Donna and friend Jen sample wine during a tasting at the Connecticut Valley Winery on Route 202 in New Hartford, Connecticut...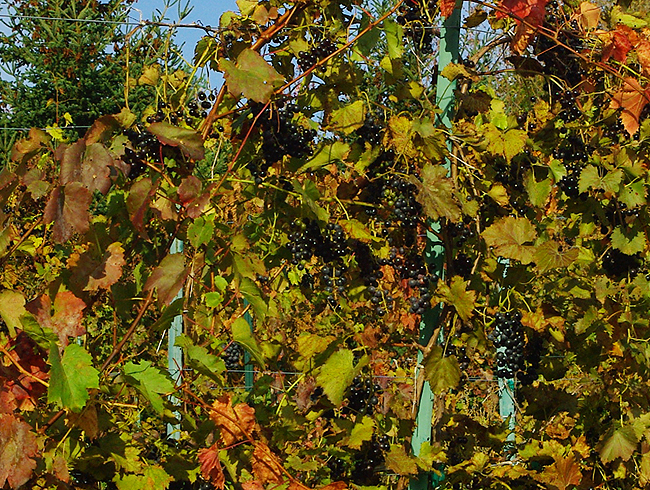 Late October - and grapes are still awaiting picking, on vines at the Connecticut Valley Winery!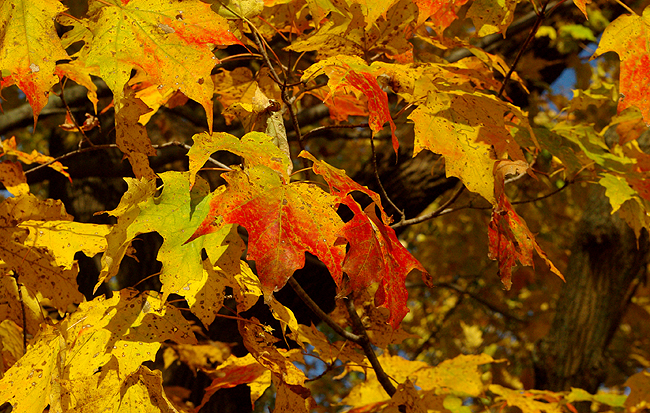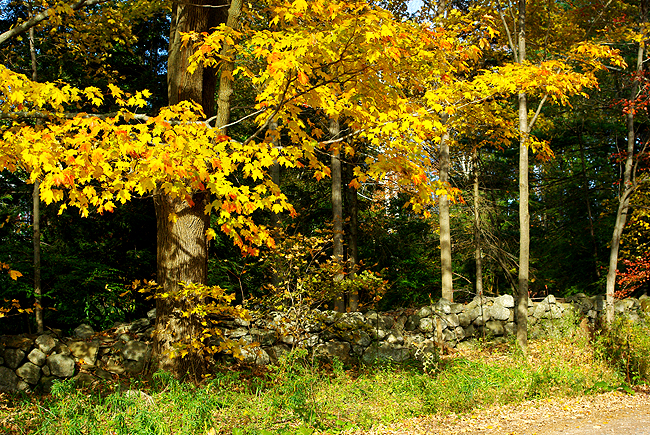 Above two images: Brilliant yellow and orange foliage along a classic New England stone wall on the grounds of Jerram Winery on Route 219 in New Hartford, CT - The winery is part of the Connecticut Wine Trail, as is the Connecticut Valley Winery...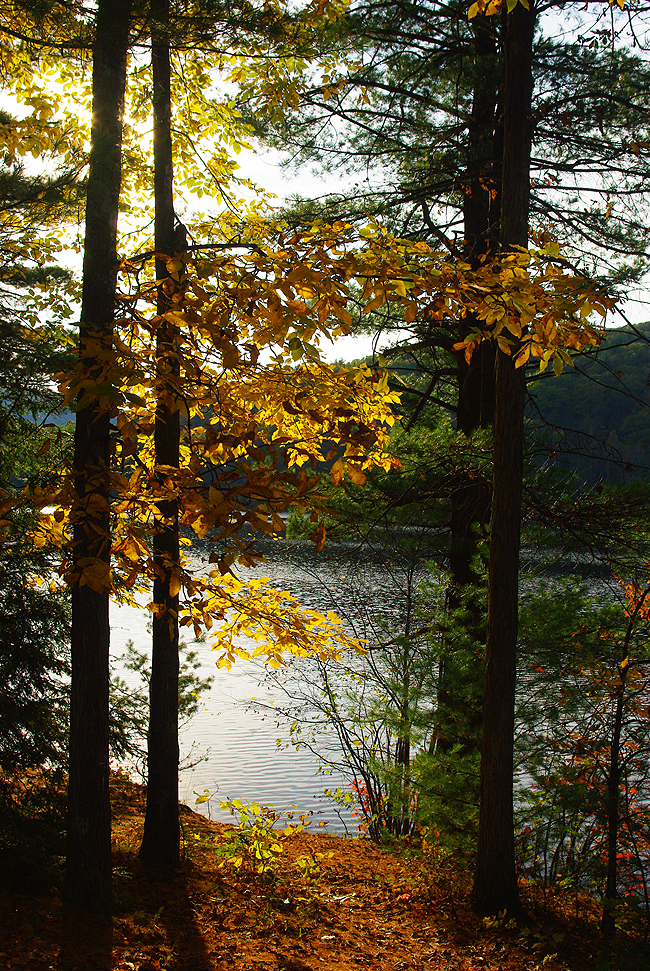 Autumn sunshine illuminates golden leaves along the shore of pristine Lake McDonough, part of the MDC water system, along Route 219 in Barkhamsted, CT...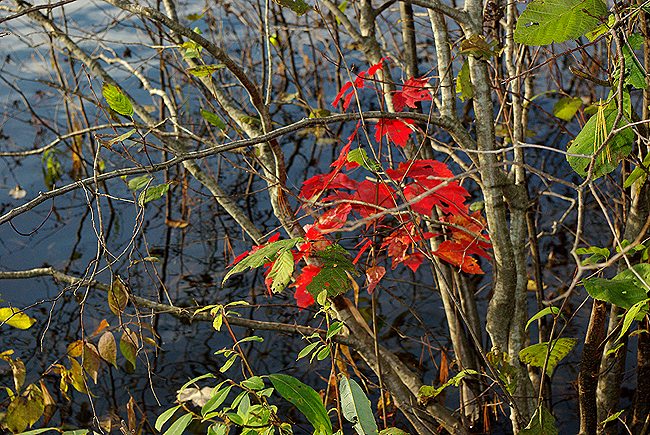 A splash of red just above the waterline at the lake...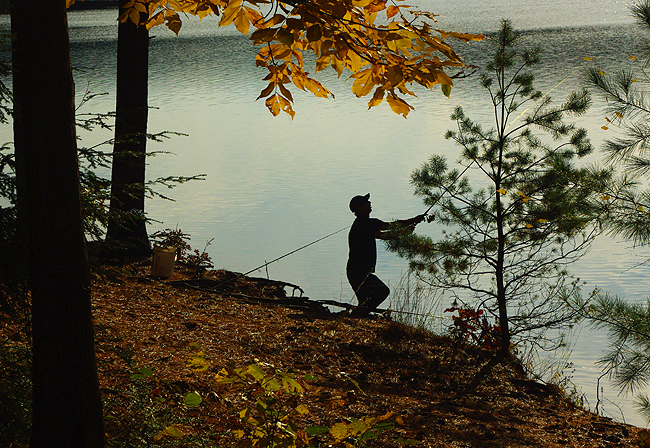 An angler casts his line into the clear waters of Lake McDonough for some late afternoon fishing. Swimming and boating are also offered in this MDC recreation area - one of Connecticut's hidden gems - about 30 miles west of Hartford...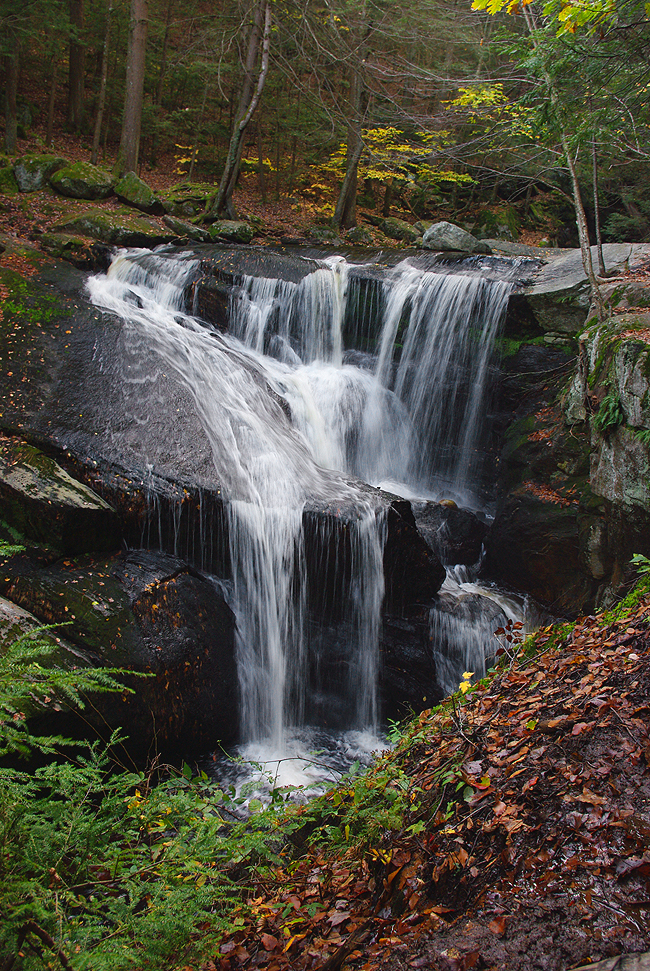 Finally, an autumn look at Enders Falls, just one of a series of tumbling cascades along Mountain Brook, easily reached via a short path from the parking lot on Route 219 in West Granby, Connecticut. Click here for more views of the falls...
images c. 2011 - Dennis A. Hubbs, D&D Travel Services, LLC
Thanks for visiting - hope you have enjoyed these images!