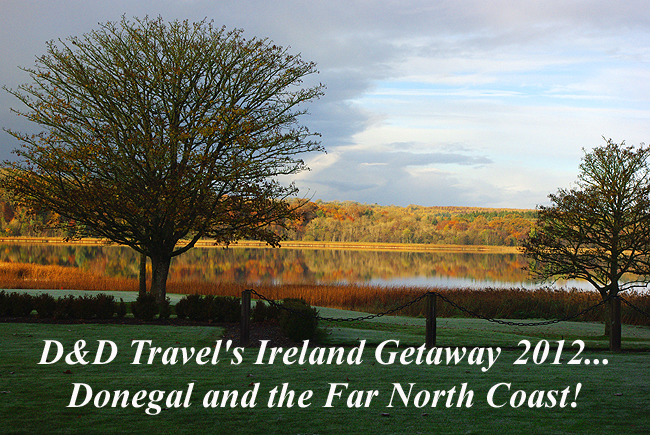 Welcome to our photo essay on our November, 2012 visit to Donegal, Ireland and the far north coast! We hope these images will inspire you to come along every November for another annual journey, each exploring a different part of the country...and the gorgeous scenery that is Ireland...the Emerald Isle! - Donna and Dennis
All images c. 2012, Dennis A. Hubbs, D&D Travel Services, LLC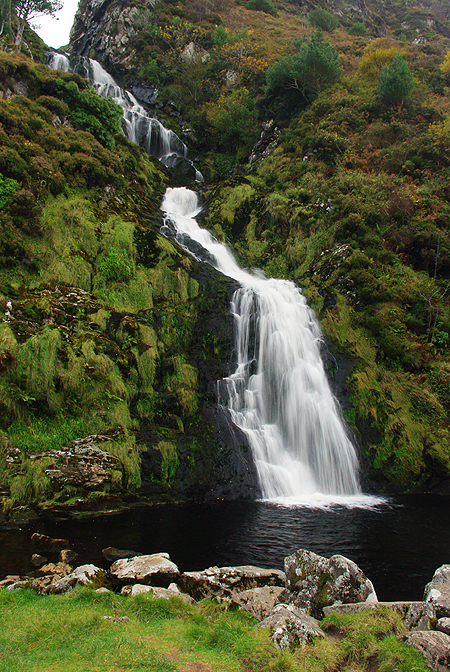 Above: Assarnacally Waterfall, about 7 miles southwest of Ardara, in Laconnell, County Donegal...What an unexpectedly beautiful gem on the road to Maghera!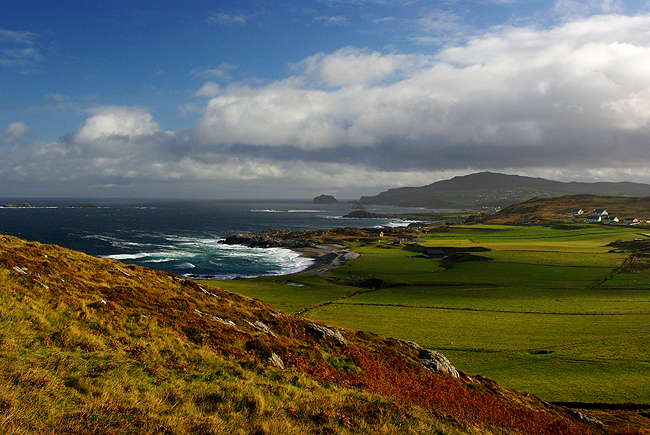 Malin Head - the northernmost point in all of Ireland - as seen atop the hill at Banba's Watch Tower. Perfect, though windy weather brought out the amazing colors in this scene!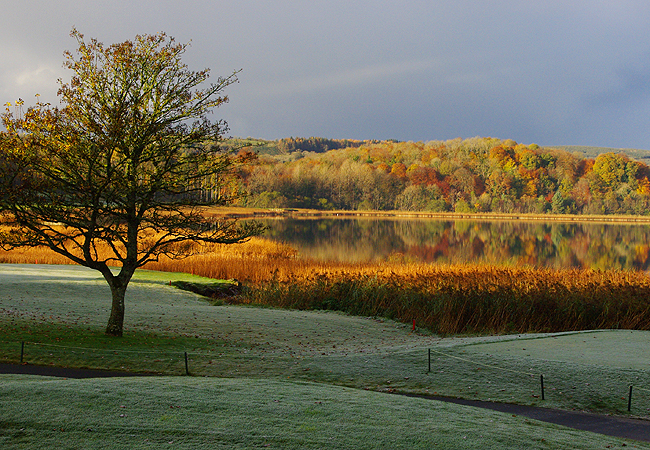 Lower Lough (lake) Erne, at Lough Erne Resort...and our view from the restaurant during arrival day breakfast...The frost had not yet lifted and the lake was mirror-still, creating this lovely late autumn scene.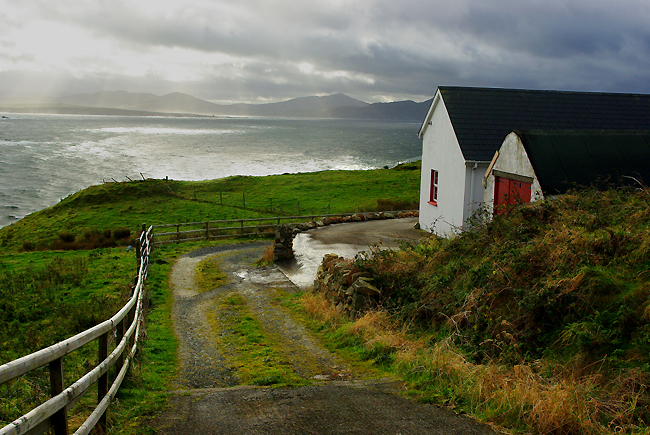 The North Atlantic, near Malin Head, along Regional Road R242...This scenery is quite typical in rural Ireland...and a joy to photograph with the ever-changing light!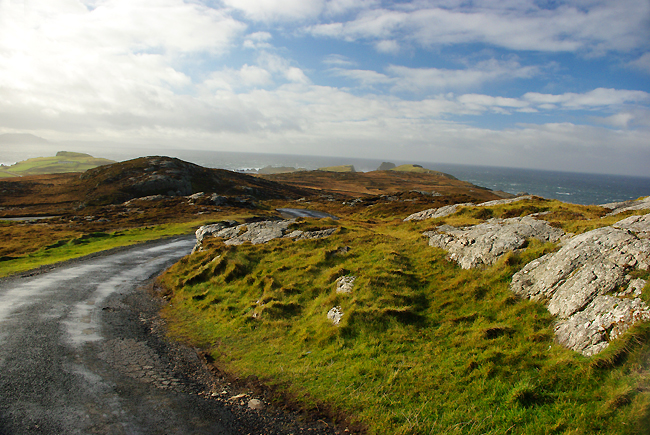 A local road on the Inishowen Peninsula, near Malin...Yes, it's two-way traffic!!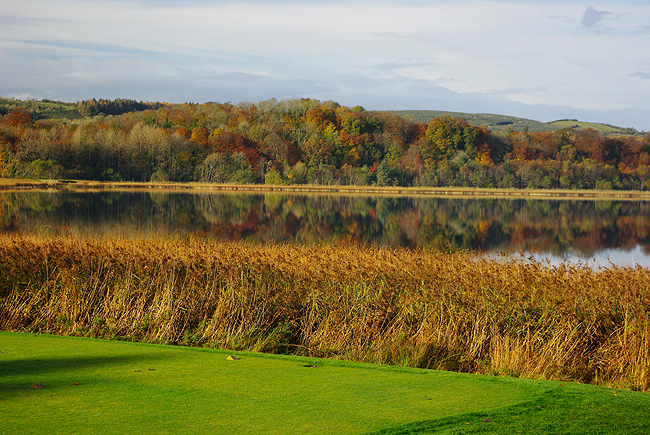 Another view of Lower Lough Erne, from one of the holes on the resort's golf course...
On the road to Donegal Town...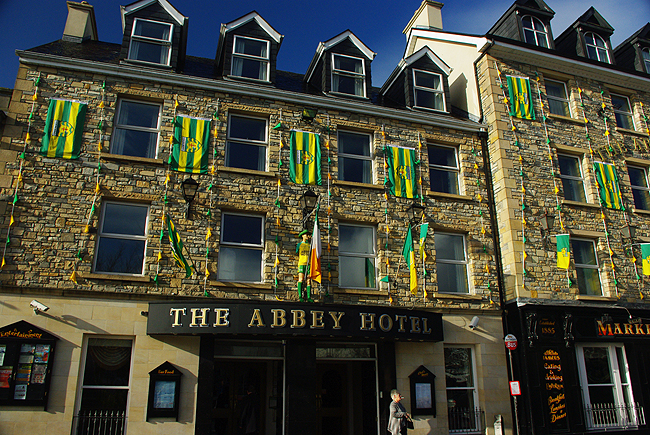 Our hotel for 4 nights - the Abbey - on the "Diamond" in the center of Donegal Town!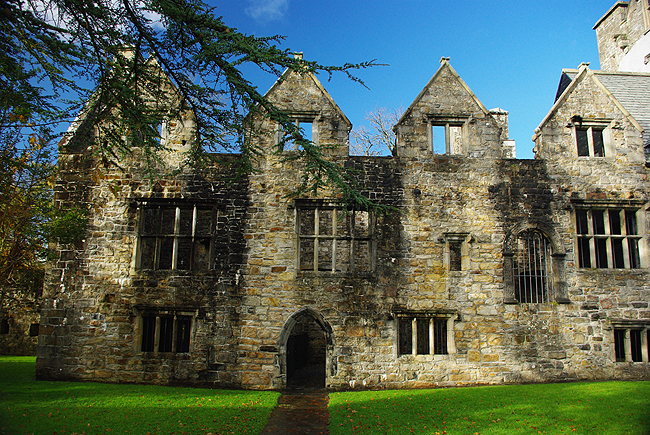 Above and below: Donegal castle, built by the O'Donnell Clan in 1474 and mostly restored...just a short walk from our hotel!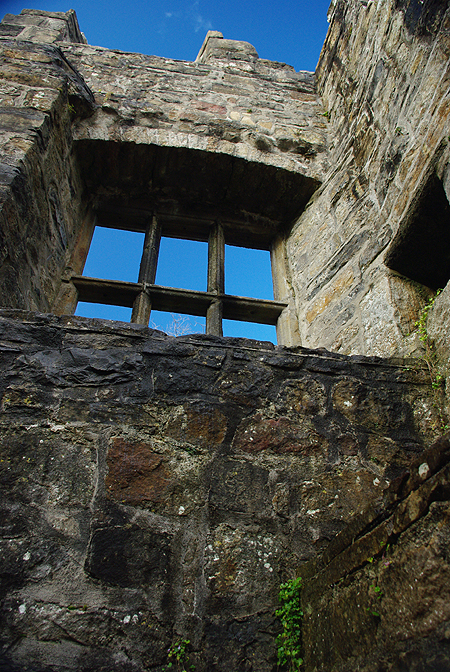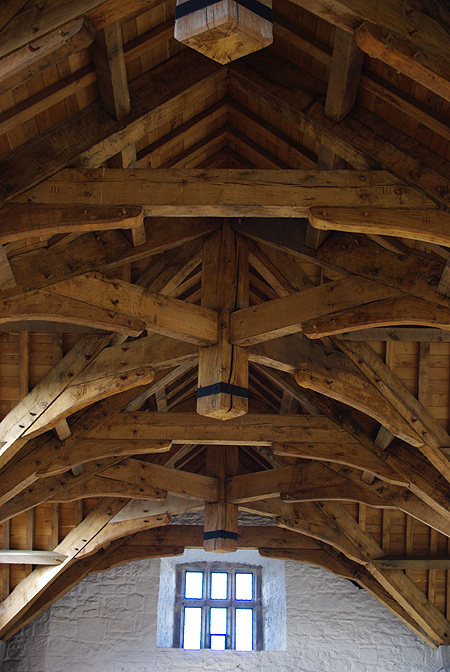 The restored ceiling woodwork in the main hall of the castle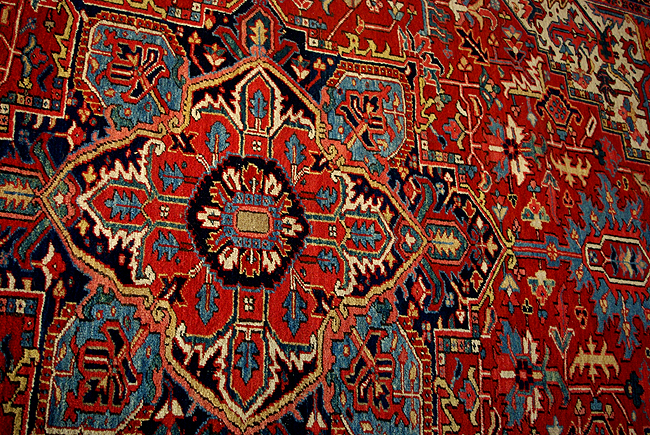 Gorgeous tapestry adorns the wall of the castle's hall...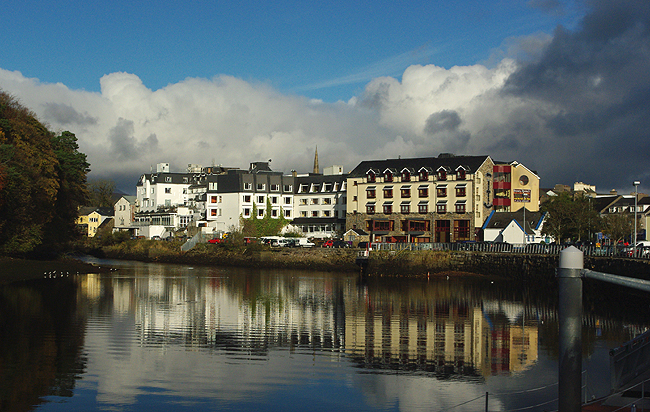 Our hotel (white building in center), reflected in the waters of the River Eske. Many rooms have a great river view, adding to a perfect downtown location!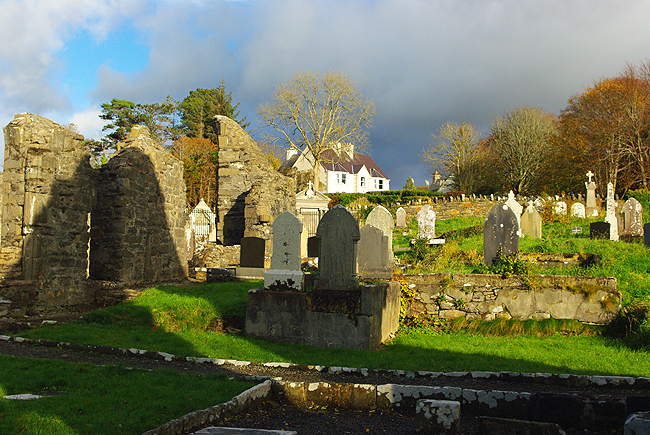 Just a short walk from the Abbey Hotel are the ruins of the Franciscan Friary (abbey), at the mouth of the River Eske and built by Hugh O'Donnell in 1474. The graveyard is still in use today and the river views from here are fantastic!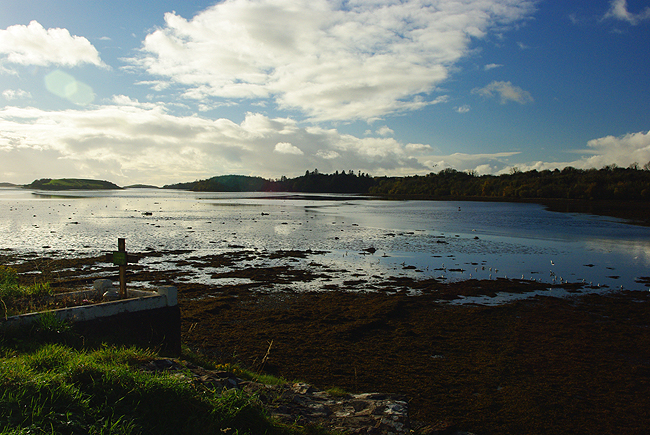 The mouth of the River Eske, draining into Donegal Bay, seen from the Friary ruins...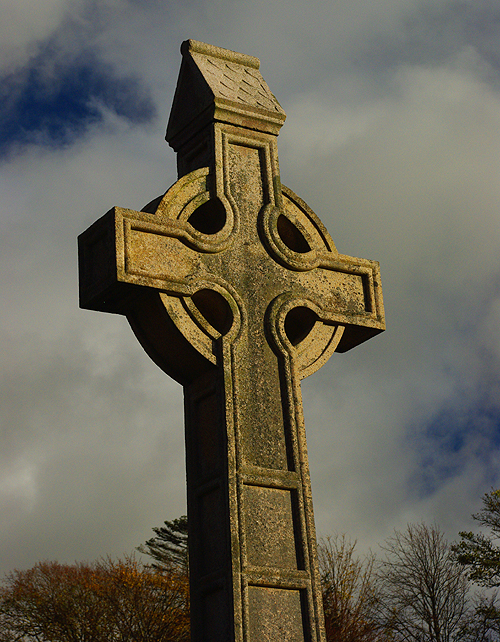 A lovely Celtic High Cross in the Friary graveyard, as the late-afternoon sun casts a yellow glow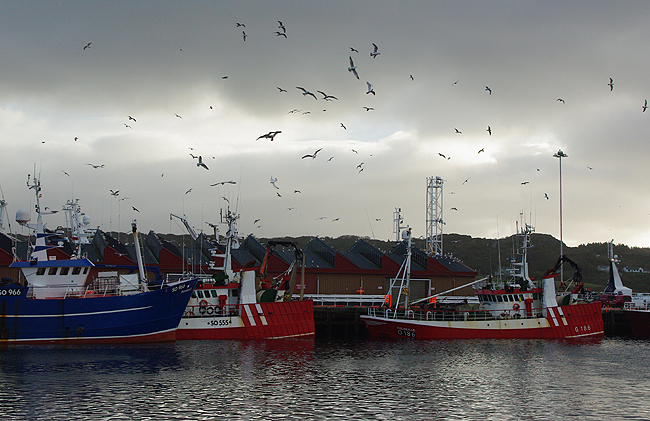 Part of the fishing fleet at Killybegs, on Donegal Bay west of Donegal Town. The harbor is home to all of the largest Irish midwater pelagic fishing trawlers along with a modest whitefish fleet, but it handles many other types of shipping as well.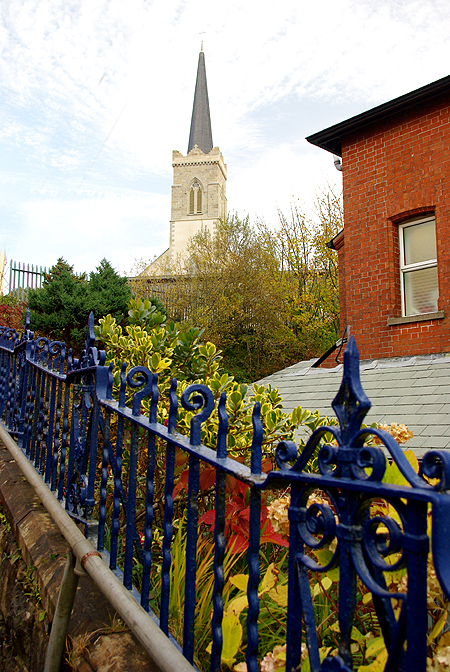 Above & next three images below: Along the streets of Killybegs...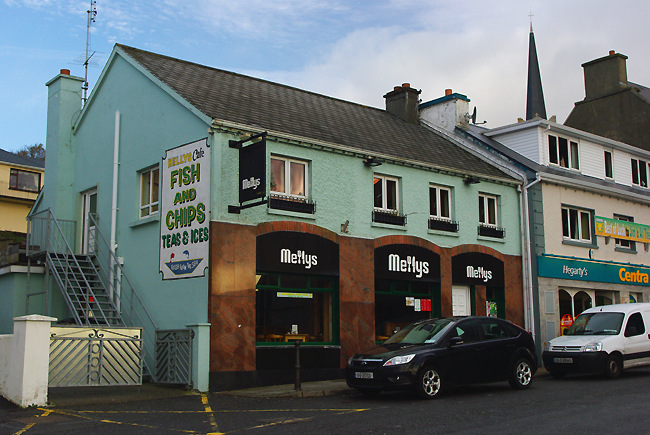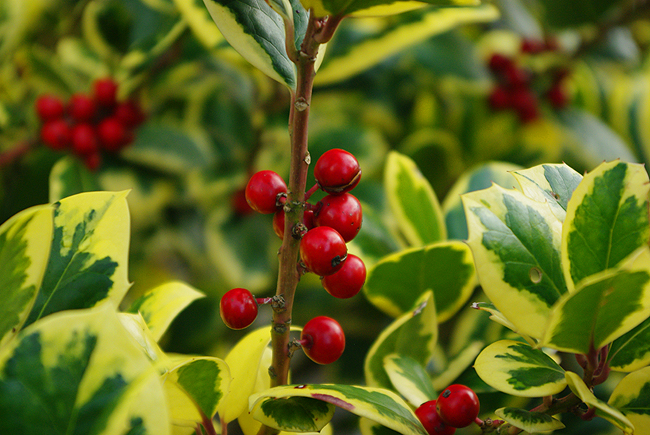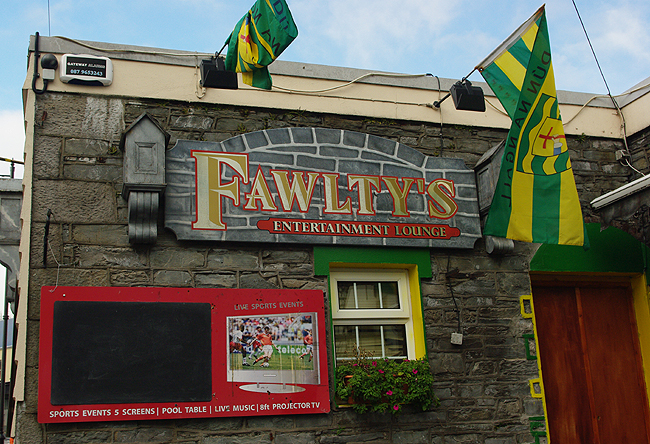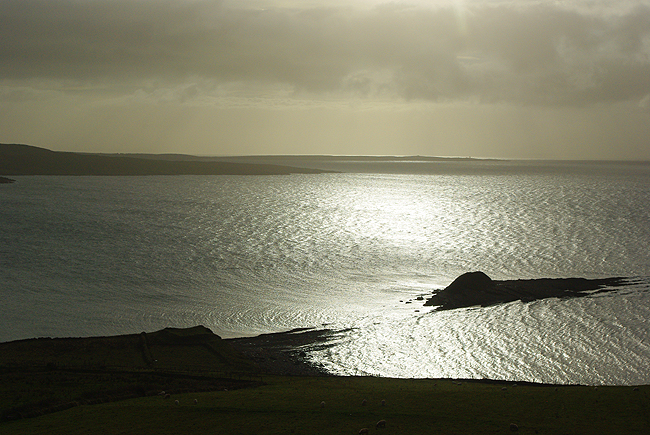 Late afternoon along Donegal Bay, as we return from Malin Head...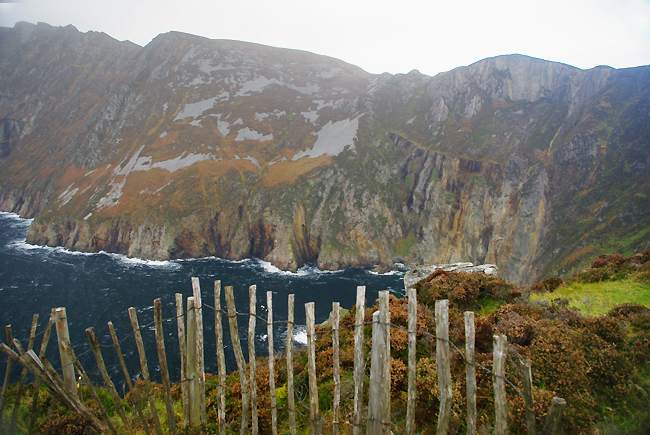 Slieve League Cliffs, along the North Atlantic Coast in County Donegal. At 1972 feet, they are among the tallest in all of Ireland and are actually 3 times the height of the more famous Cliffs of Moher! They are reached by a narrow local road out of Teelin, west of Killybegs...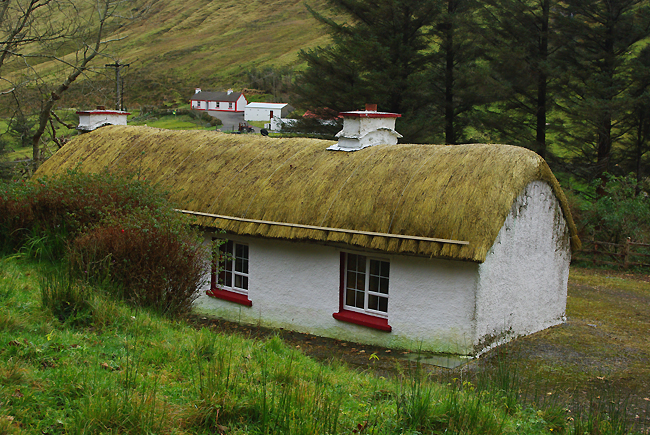 A fine example of a thatched-roof cottage in County Donegal, becoming more and more rare with each passing year...