D&D Travel Presents...
The Finger Lakes and Corning, New York
These photos are from a visit to the Keuka Lake Wine Country area of Central Upstate New York and to Delaware County in Eastern New York... Please enjoy these 21 images and let us know if we can help plan a visit to this lovely area!
(high quality images - please allow ample time to load!) - Donna and Dennis
[Home] (800) 613-0282 - email: dennis@ddtvl.com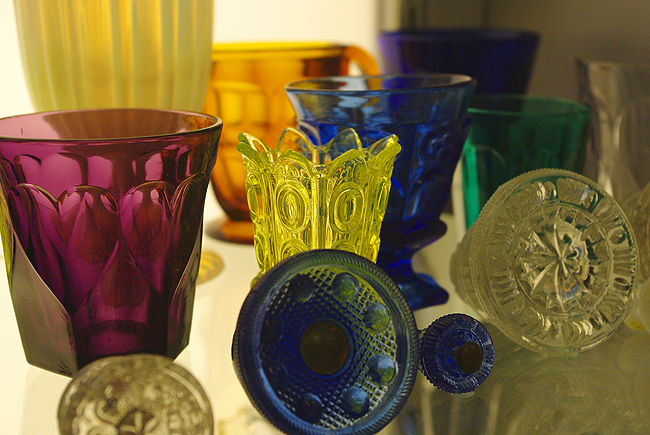 Above and the next four images below - Some of the fantastic displays of glass at the Corning Museum of Glass in Corning, NY. In the heart of Finger Lakes Country, the museum displays the history of glass making from its beginnings in Egypt to present day art glass and everything in between! Glass blowing demostrations are offered as well as make-your-own-glass classes and a fabulous glass market! The museum is open 9 - 5pm daily, with longer hours in the summer...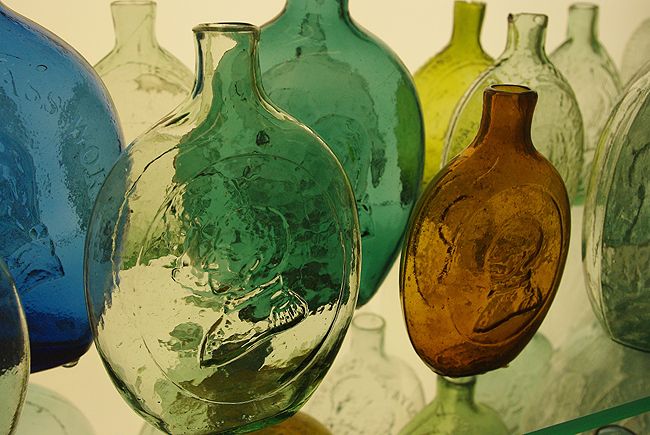 Rare 1800s glass bottles of every color on display...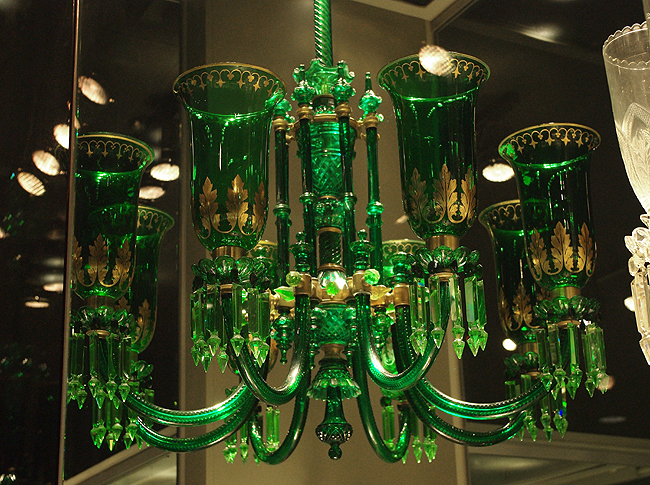 A green glass chandelier hangs in all its glory - made by F. & C. Osler, Birmingham, England, between 1860 and 1880 and just as brilliant today as it was in the mid 19th century...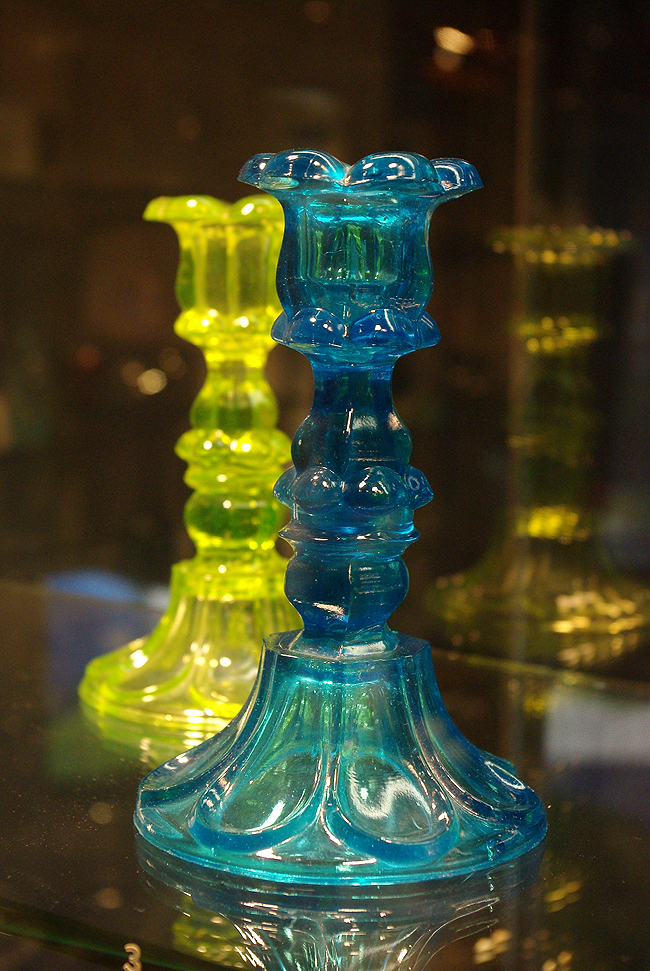 Cut glass candle holders circa 1930, made by the Majestic Cut Glass Company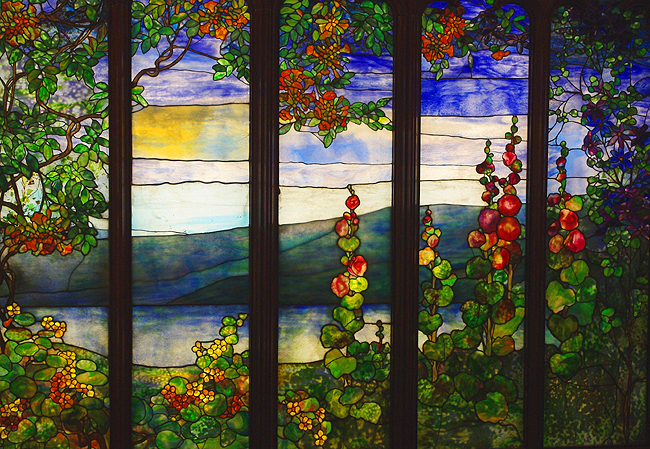 Magnificent 1905 Tiffany stained glass window with Hudson River landscape, on display at the Corning Museum of Glass.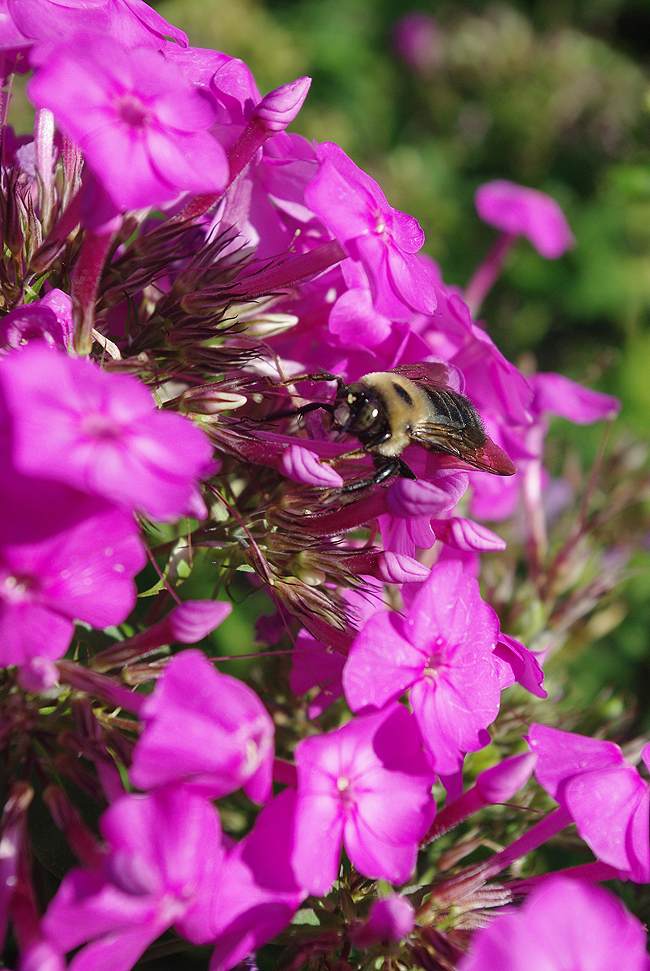 A bee samples a flower blossom in front of the J.S. Hubbs Bed and Breakfast Inn in Hammondsport, New York. The town also is home to several wineries and the Glenn Curtiss Museum. Glenn Curtiss developed many motorcycles in the early 1900s and in 1907, he built an 8-cylinder bike that he drove at 136mph - a world speed record he held until 1930. He is however, perhaps most well known for the flight of the "June Bug," which he built and flew in the world's first pre-announced public flight in 1908! His JN-4 "Jenny" was widely used as a trainer and for "Barnstorming." Both Amelia Earhart and Charles Lindbergh learned to fly in a Curtiss "Jenny!" The museum should not be missed and is located at Routes 54 and 54A in Hammondsport...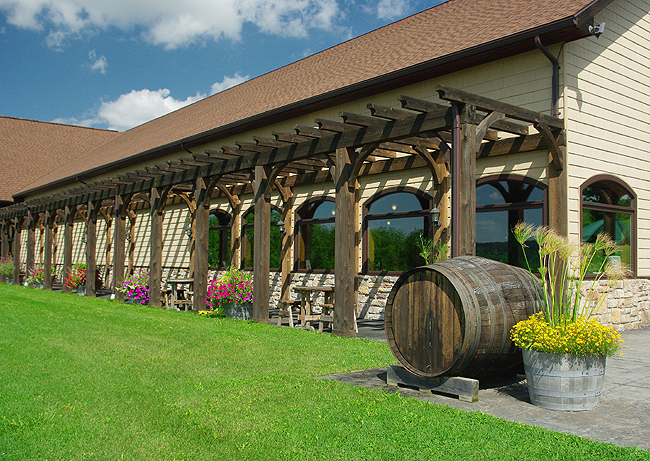 Keuka Spring Vineyard's tasting room in Penn Yan, NY. The winery has been crafting fine wines for almost 20 years and is located on NY Route 54, 3 miles south of Penn Yan center. The Winery is among at least 10 others just in the Keuka Lake area alone!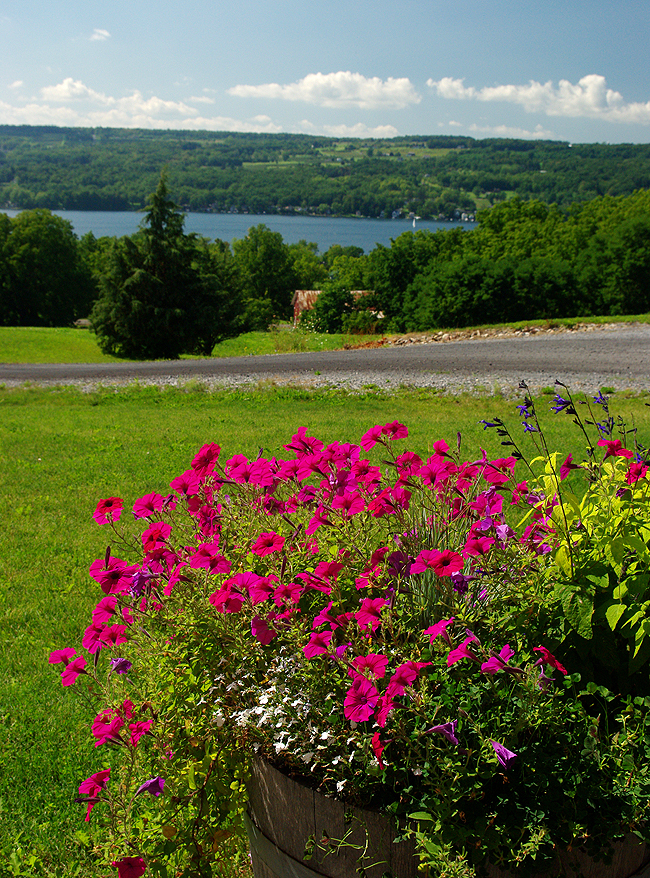 The view from Keuka Springs Vineyard's terrace, overlooking Keuka Lake...Spectacular in the summer - even more so in autumn. The micro climates around all of the Finger Lakes make the area perfectly suited to the growing of quality grapes - and world class wines as a result...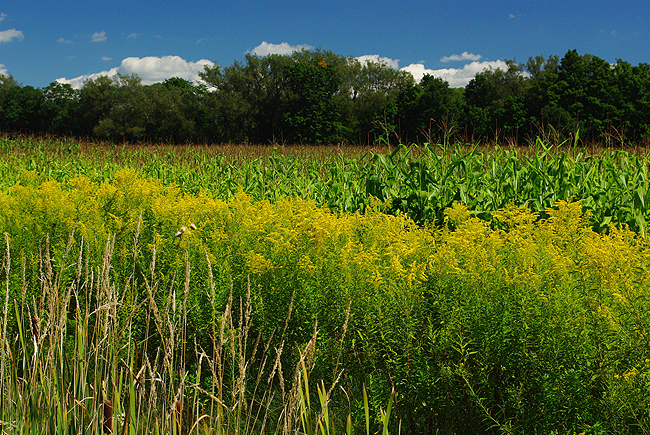 This is rolling hills farm country, producing abundant vegetables (and the obligatory farm stands) during the growing season. Here is a typical scene with Goldenrod surrounding acres of corn and a brilliant blue late-summer sky, near Keuka Lake...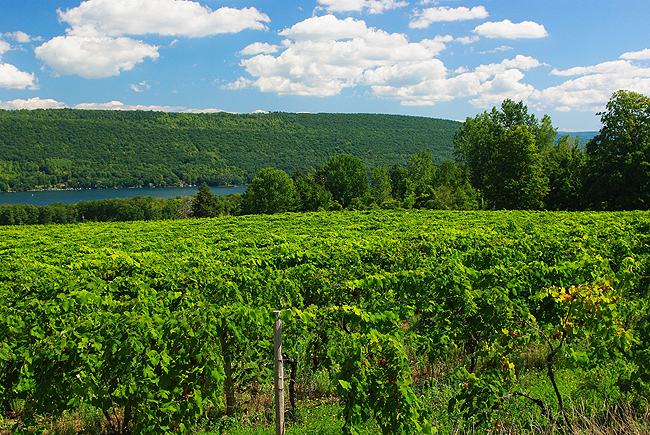 Lush vineyards surrounding the western shores of Keuka Lake in Hammondsport. Yes, it really is that green here! There are five major lakes in the Finger Lakes area: Skaneateles, Cayuga, Seneca, Keuka and Canandaigua - and a number of smaller lakes - all sporting great scenery... The area surrounding Seneca Lake boasts no less than 30 wineries!
Wildflowers bask in summer sun at the edge of the vineyards of Dr. Konstantin Frank's Vinifera Wine Cellars on Middle Road in Hammondsport, NY. Founded in 1962, the vineyard was the first to produce world-class table wines including Pinot Noir and Cabernet Sauvignon among many others. Frank was a pioneer grower of European wine grape varieties in the eastern US.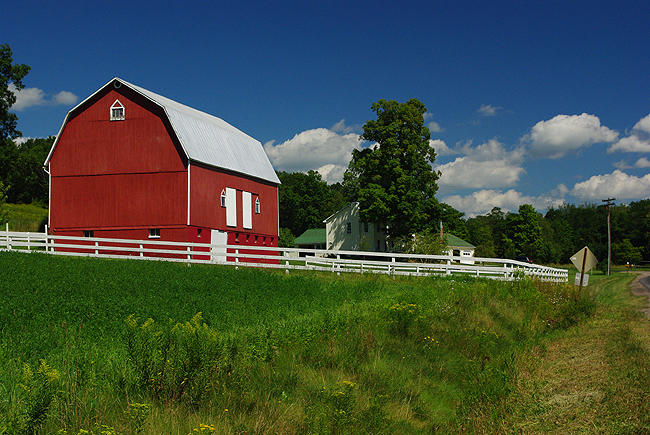 A beautiful red barn - one of many typical farms you'll pass while driving the countryside in the Finger Lakes region. This is some of the lovliest farm country in the east...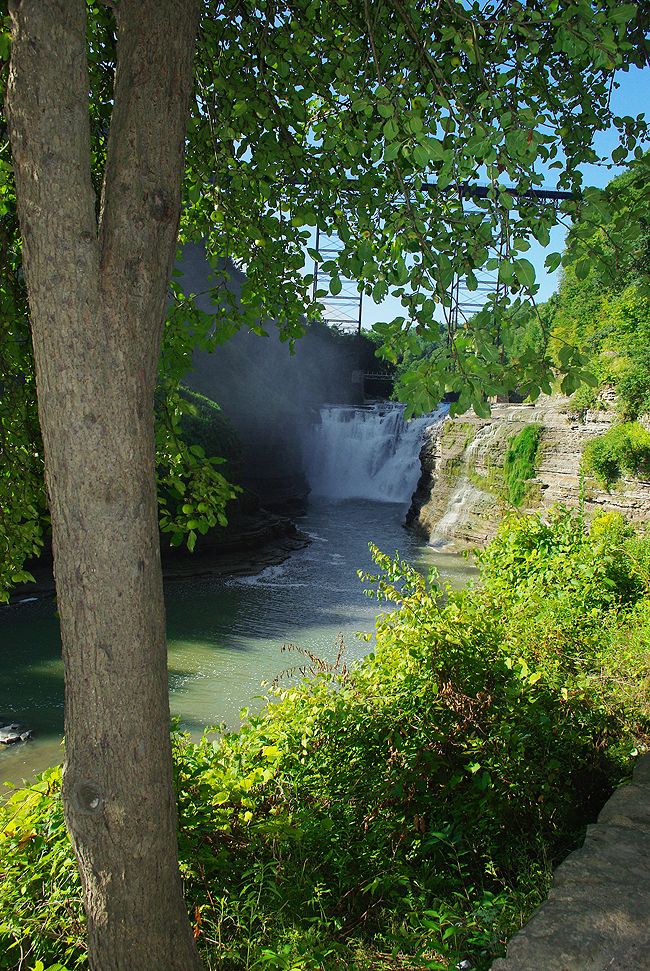 Upper Genesee Falls at Letchworth State Park, Castile NY. Known as the "Grand Canyon of the East" - a title well-deserved - it offers 3 major waterfalls and many others, some reached only by hiking trail. The Genesee River roars through the gorge, creating the cataracts - up to 500 feet high in places. Upper Genesee Falls is a 70 foot horseshoe cascade with an active railroad bridge high above...Overlooks are easily accessed by car from the main parking lot and if conditions are right, rainbows often appear from the constant mist the falls generate...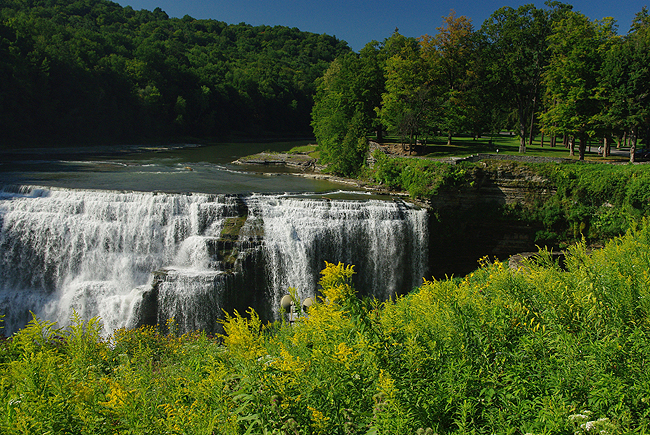 Middle Genesee Falls, opposite the Glen Iris Inn. This is a 107 foot cascade that is lit up at night and also creates its own rainbows from the mist. Easy access allows for great photo opportunities!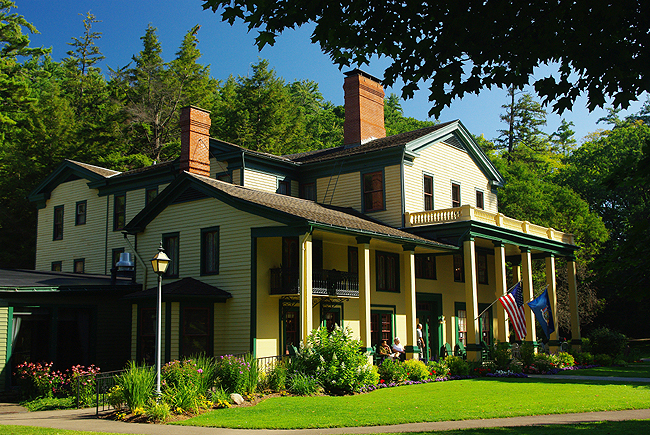 The Glen Iris Inn, donated to the State of New York along with 1000 acres of land that includes the 3 major waterfalls, by the Letchworth family 100 years ago. The park now encompasses 14,350 acres of magnificent scenery along the Genesee River gorge, about 35 miles south of Rochester. A restaurant on the left side of the inn overlooks the gardens and offers excellent food at very reasonable prices as well as overnight accommodations...Don't miss a meal at this historic place and take time to gaze at Middle Genesee Falls across the road!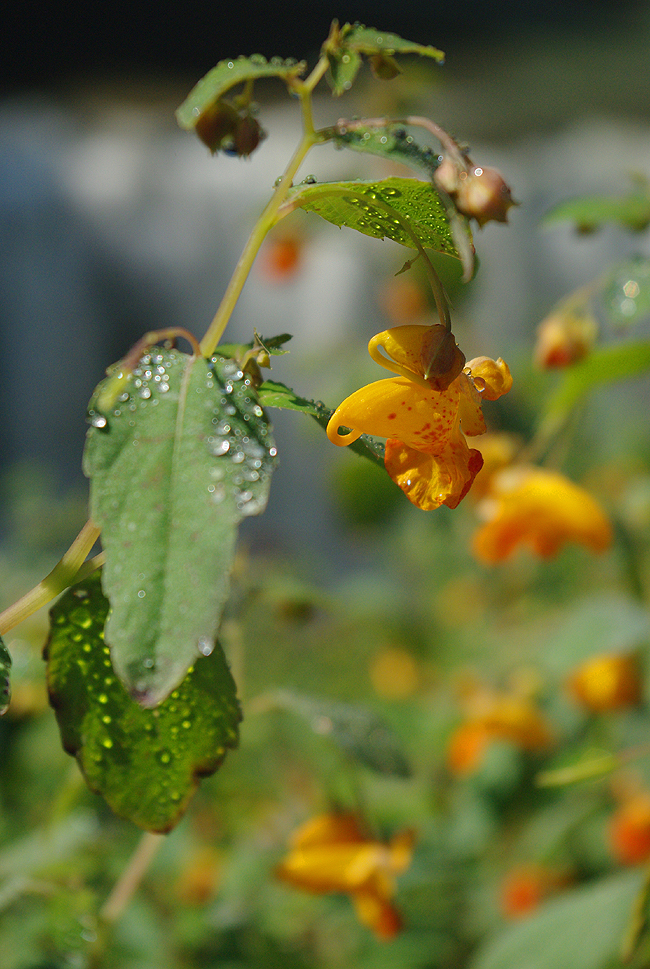 Mist from Lower Genesee Falls drips from a wildflower not far from the edge of the gorge. This is an ideal spot for flowers to flourish...and a hikers delight!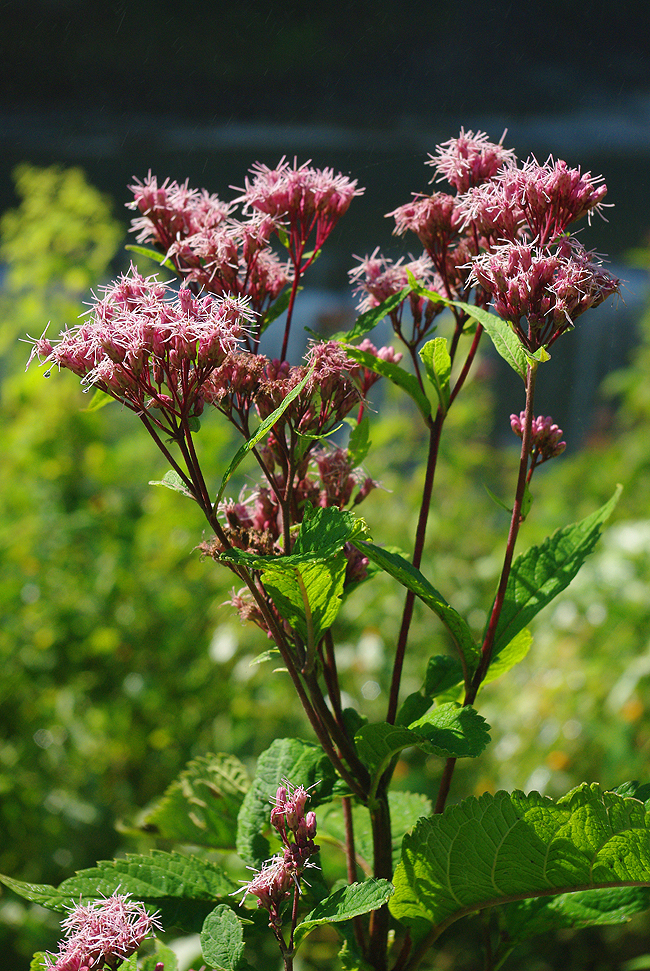 Summer offers more lovely wildflowers near the lower falls.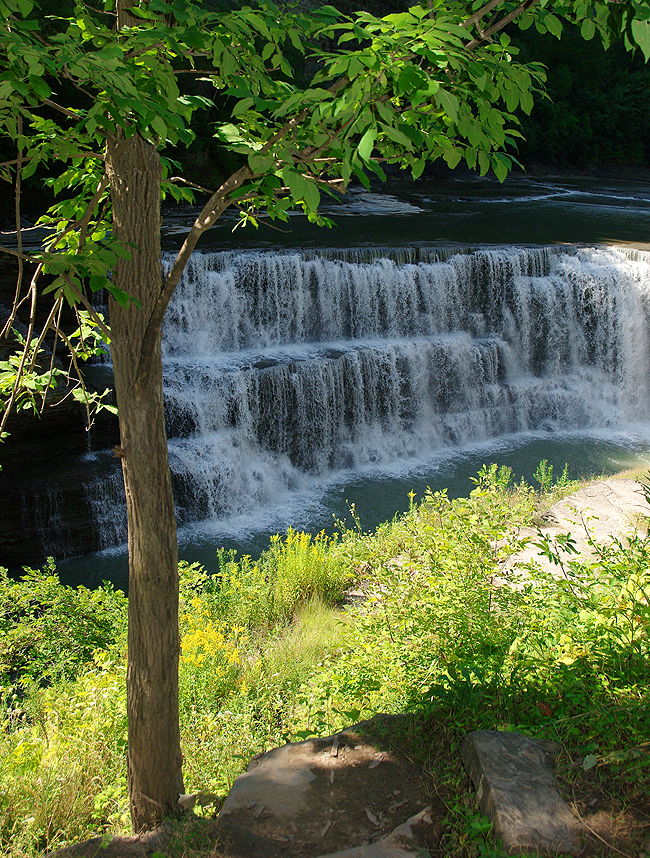 A view of 70 foot high Lower Genesee Falls - again easily accessible by a short trail with a foot bridge and 127 steps. This hike, along Portage Trail, is well worth the effort!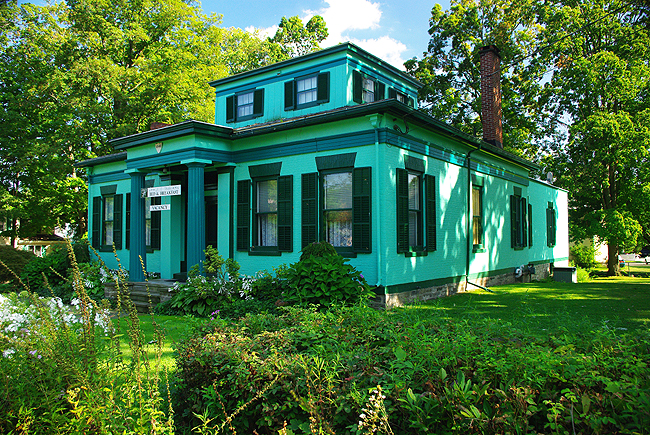 The 1840 J.S. Hubbs (no relation!) Bed & Breakfast Inn on Shethar Street in Hammondsport, NY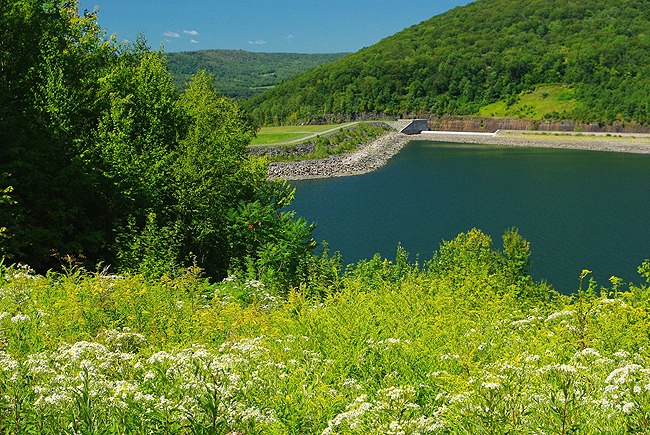 Cannonsville Dam in Cannonsville, NY. The construction of the Cannonsville Reservoir in Delaware County, NY was started in 1955 and completed in 1965. "When the water filled the valley in 1966, it consumed 19,910 acres of Delaware County; eliminating 94 farms, destroying five settlements - Cannonsville, Granton, Rock Rift, Rock Royal and Beerston, and displacing 941 people." It's creation was similar to that of the Quabbin Resevoir in Central Massachussetts - also known as the "Accidental Wilderness." Several towns were drowned in the creation of that water supply in the 1930s. The Cannonsville Reservoir is not in the Finger Lakes Region, but it is nonetheless a very scenic area!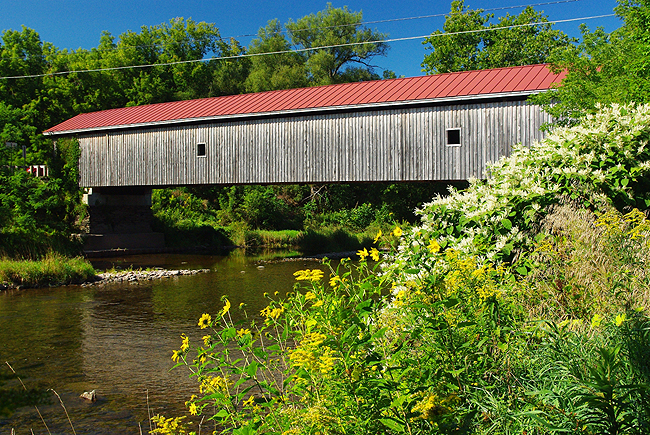 Hamden Covered Bridge, Hamden, Delaware County, NY. Built in 1859 at a cost of $1000, it crosses the West Branch of the Delaware River. The bridge, just off NY Route 10, was rehabilitated in 2000-2001 and is on the National Register of Historic Places. Built by Robert Murray, it remains a gorgeous example of historic preservation!
Photographs c. Dennis A. Hubbs, D&D Travel Services, LLC - (800) 613-0282