D&D Travel's September visit to the Big Apple - New York City - with a tour of Radio City Music Hall...A fun and colorful city to say the least! We hope you enjoy the following HQ images...
- Donna and Dennis [home]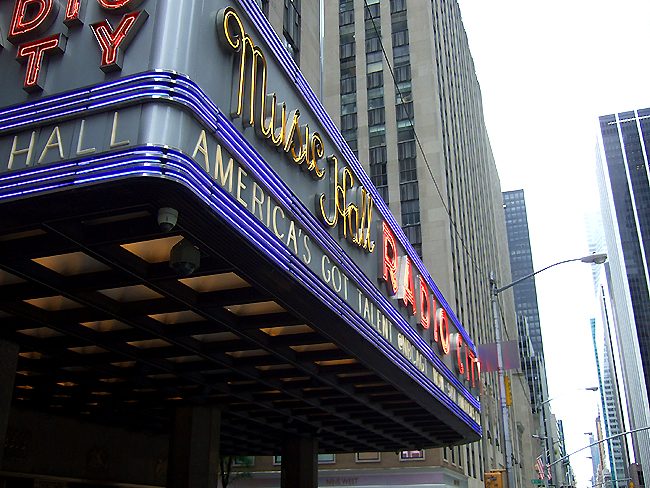 As you can see from the marquee above, America's Got Talent - the NBC television series - was being shot at Radio City the week of our visit.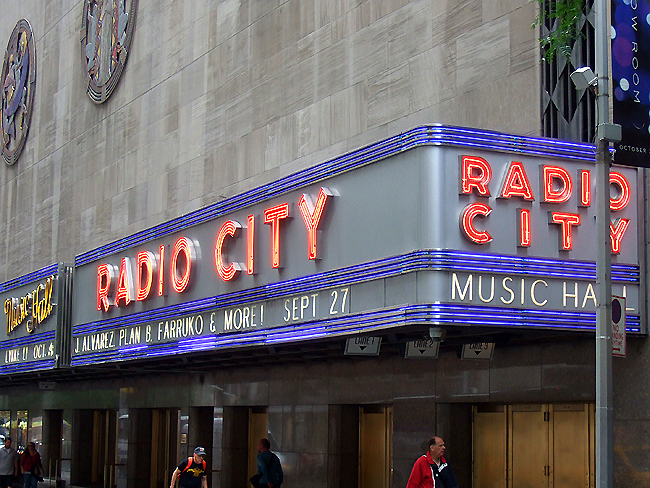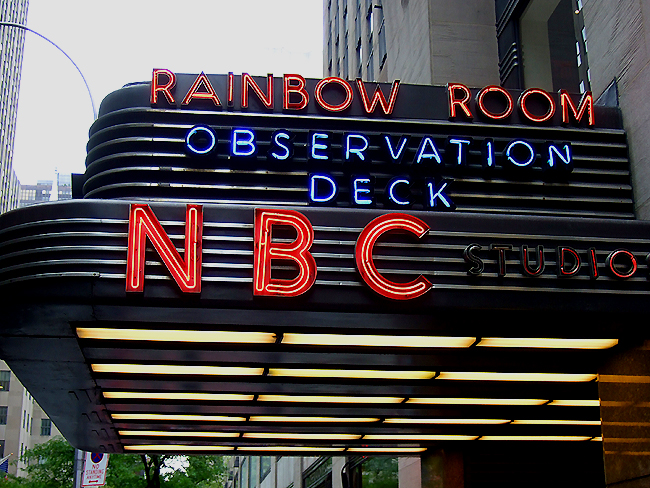 NBC Studios New York - home of Saturday Night Live and several other television programs.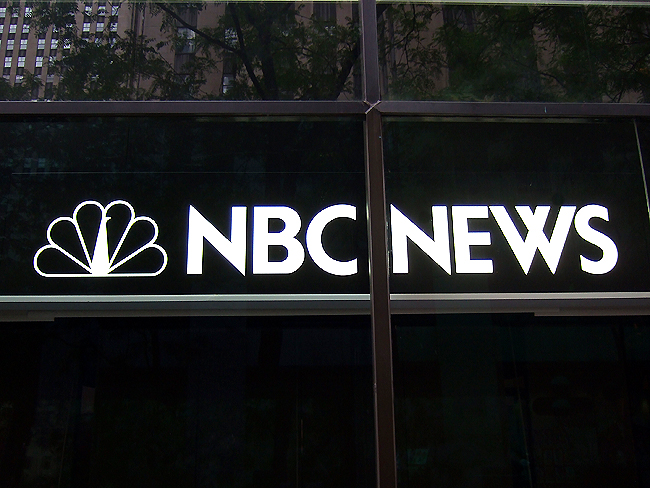 Above and below: 30 Rockefeller Center - home of the Today Show and NBC News...Below, dining replaces ice skating in season!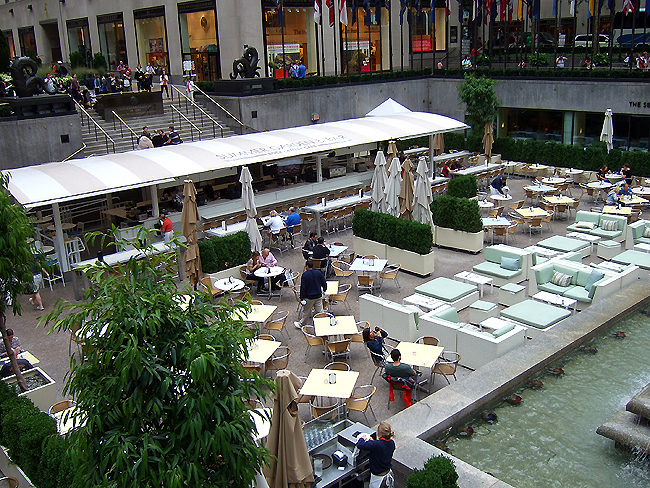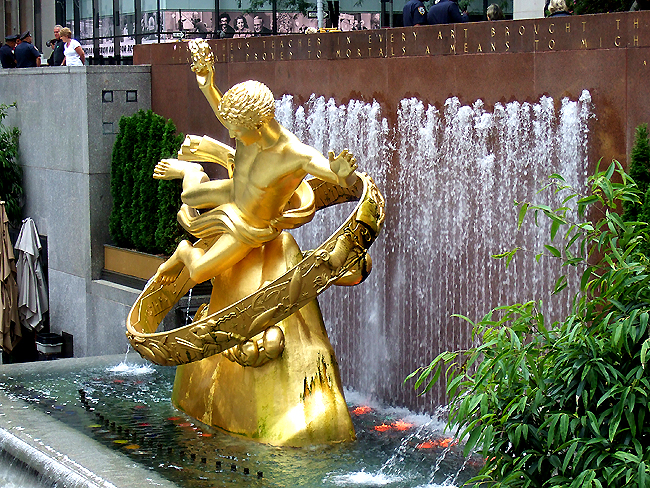 A gorgeous golden sculpture at the edge of the (above) rink at the Plaza. Rockefeller Center is a group of 19 commercial buildings that comprise New York City's top tourist attraction!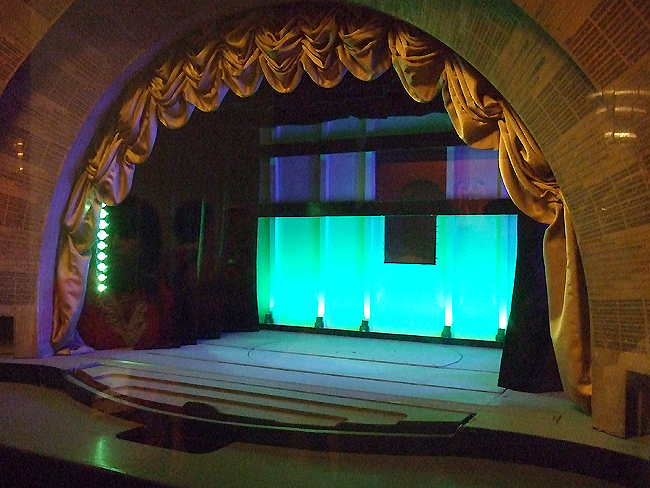 A 1932 working scale model of the stage in the auditorium at Radio City Music Hall...When the renovations were in progress in 1999, engineers took a look at the hydraulic lift/elevator/turntable systems under the massive stage...and determined they were all fine as is!! The system is still in use using most of the original controls from that era - a true engineering marvel...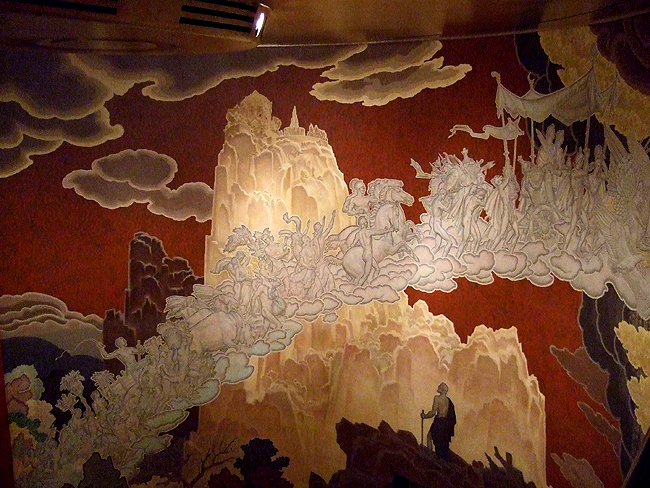 As mentioned, in 1999, the hall was completely restored to its 1932 grandeur. Above, just some of the lovely wallpaper in the theater. Radio City is perhaps best known for it's annual Christmas Spectacular, performed by the lovely Rockettes. The dancers have been performing for 85 years as of 2014!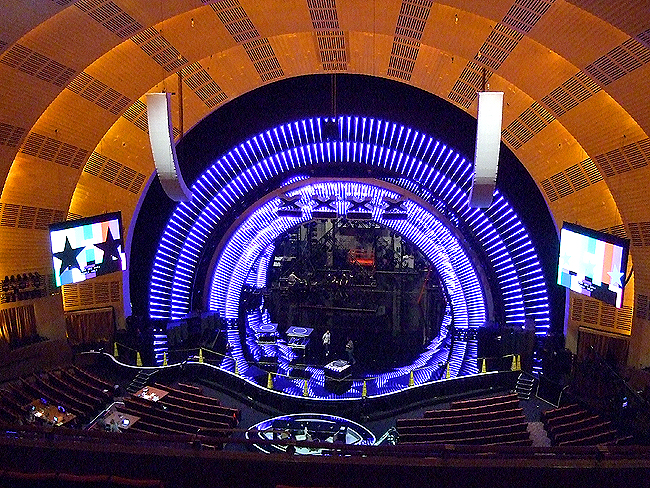 The huge auditorium - the largest indoor theater in the world - is a city block long and the stage is framed by an arch, said to represent the setting sun, that is 100 feet wide and 60 feet high!
Above, the crew of America's Got Talent set-up and test the lasers and other lighting and equipment in preparation for the series' season 9 live broadcast finale on September 16 and 17, 2014...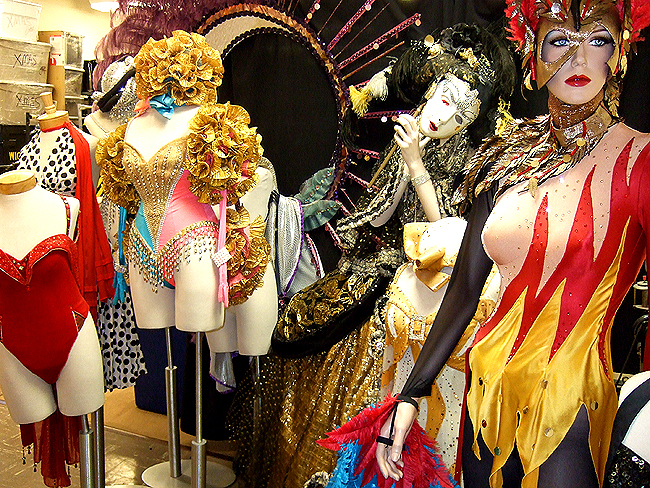 A display of Rockettes costumes...
...and a photograph of past dancers, along the halls of the theater.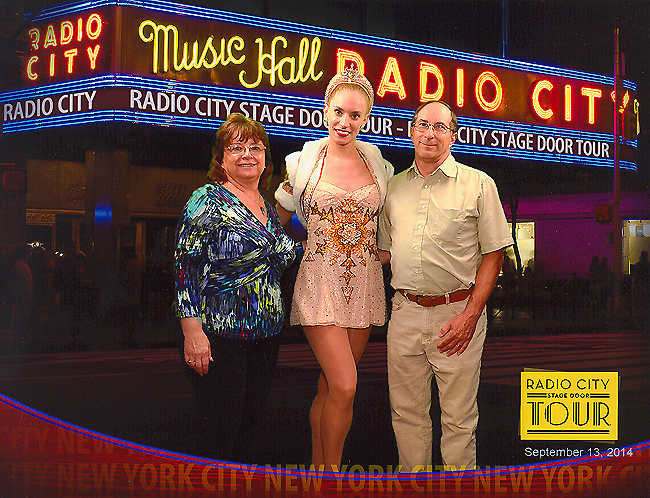 The obligatory photo of Donna and Dennis, taken with a beautiful Rockette, at tour's end...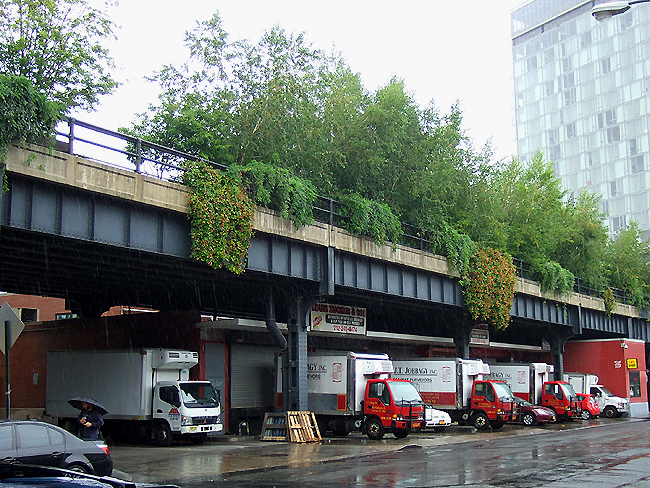 While the weather was not the greatest this day, we were able to photograph at least part of New York's High Line - an elevated defunct railway - which removed heavy and dangerous freight traffic from city streets in the 1930s through 1980...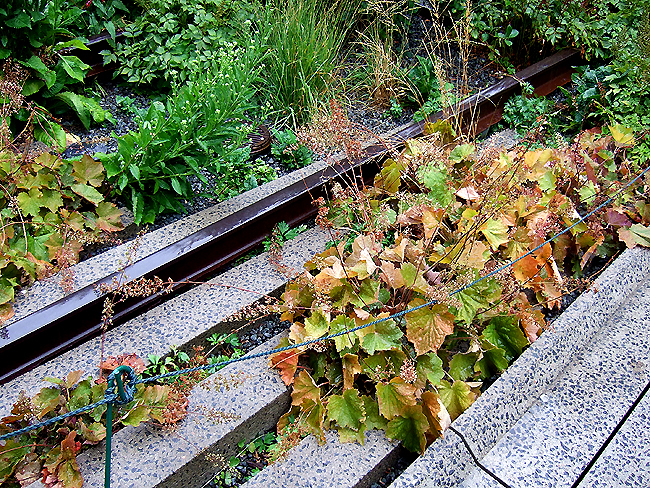 The preserved ex-railway park first opened to the public in 2009 and runs from Gansevoort Street to West 30th Street...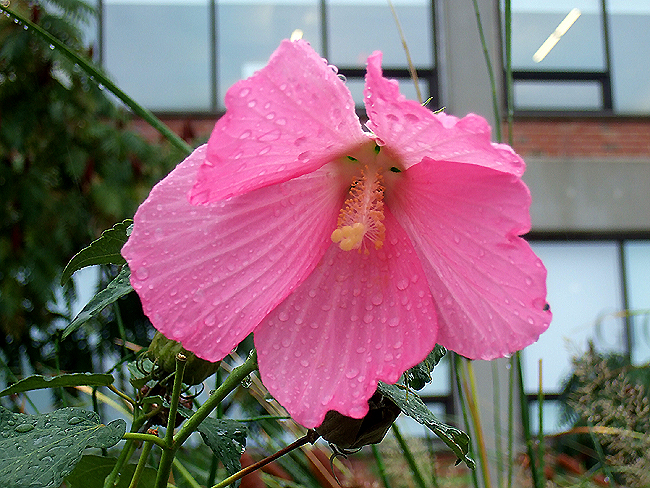 According to the park's website, "Self-seeded grass, trees and other plants grew on the out-of-use elevated rail tracks during the 25 years after the trains stopped running...161 out of the 210 plant species in the design of Section 1 of the High Line are native to New York." It's a fascinating place to visit when in the Big Apple. We encourage you to take a walk along the old rails and see for yourself! - Donna and Dennis
Land Tours - Cruising - Travel Glossary - Gallery - Email Us