Above is the Central Park "Neighborhood" - one of 7 - aboard Royal Caribbean's fantastic new 5400 passenger megaship the Oasis of the Seas - The largest cruise ship in the world - at 220,000 tons, now in Fort Lauderdale... There are 37 categories of accommodation options aboard, with 28 loft suites featuring floor-to-ceiling oceanview windows as well as many inward-facing "inside" staterooms like those above! Two other "neighborhoods" are The Boardwalk and Royal Promenade. Three additional neighborhoods are the "Pool and Sports Zone" and the "Vitality at Sea Spa and Fitness Center" and the "Entertainment Place." While the ship offers alternating Eastern and Western Caribbean itineraries, the vessel itself is the major attraction! Traditional fixed and alternative dining is offered and the Royal Promenade has been newly-designed to avoid lines at the many food and beverage outlets. Especially for Royal Caribbean fans, this new addition to the fleet will be a must-sail, so let us know if we can send you on a spectacular cruise aboard her!
- Donna and Dennis Hubbs, Master Cruise Counsellors
The Oasis of the Seas, docked in Fort Lauderdale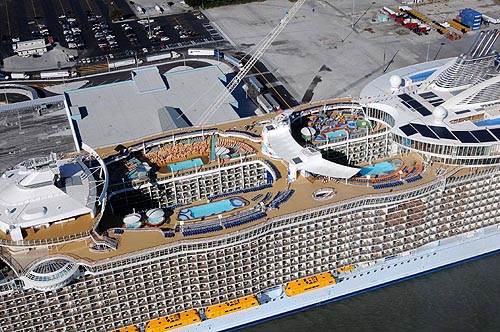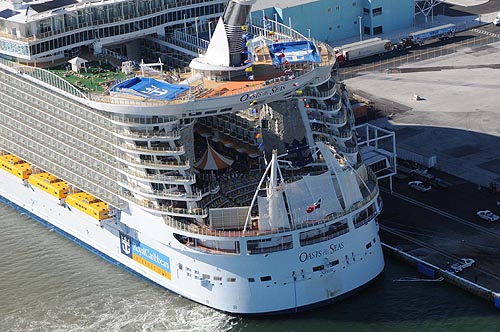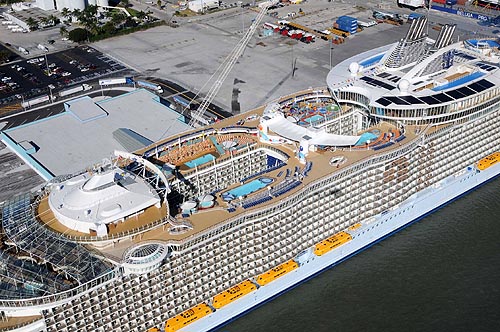 Oasis-Class Highlights

7 distinctly designed neighborhoods including:

Vitality at Sea Spa and Fitness
Solo and couple massage suites
Youth spa
Complete hair and makeup services
158 state-of-the-art cardio and resistance machines
Pilates, kickboxing, yoga and spinning classes
Vitality Café

Pool and Sports Zone
H2O Zone aqua park for kids
4 pools and 10 whirlpools
Tranquil poolside Solarium area
2 Flowriders®, sports courts, mini-golf and Zip line
Solarium Bistro, Wipe Out Café and Bar

Entertainment Place
Casino Royale
Studio B, featuring ice shows
Opal Theater - 1,380-seat venue
Blaze Nightclub, Jazz on 4, Comedy Live
Dazzles, featuring musical spectacles ranging from big band to disco
Youth Zone
Play - open gym and activity area
Adventure Ocean Theater and Science Lab
The Workshop - includes activities such as jewelry making & scrapbooking
Royal Babies & Royal Tots - nursery service
Teen Areas including Fuel disco, The Living Room lounge, the Back Deck and more
VERY SPECIAL "NEIGHBORHOODS" ABOARD HER: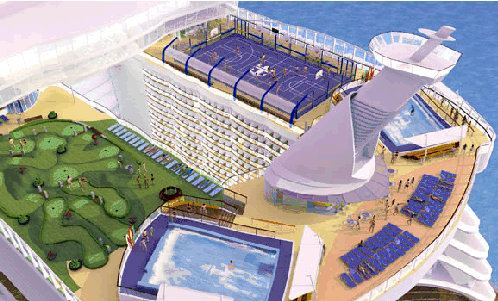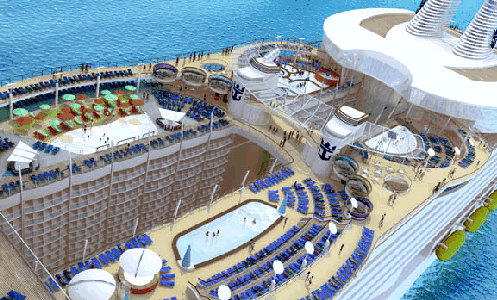 Above two images: The Pool and Sports Zone Neighborhood aboard the Oasis...It features 4 pools and 10 whirlpools (including the famous "over-the-ocean" hot tubs) and a Zipline over the Sports Deck! The Asian inspired Vitality at Sea Spa and Fitness Center Neighborhood offers a healthy food cafe and relaxation room among many other amenities!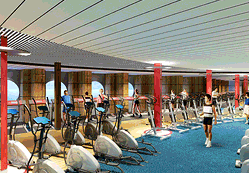 Above left: The Solarium; at right, The Vitality at Sea Fitness Center

Two more neighborhoods: Entertainment Place (above) and The Youth Zone (below)... It just gets better and better!!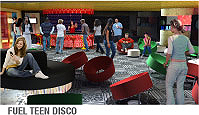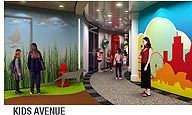 To Book: (800) 613-0282 or book on line now: